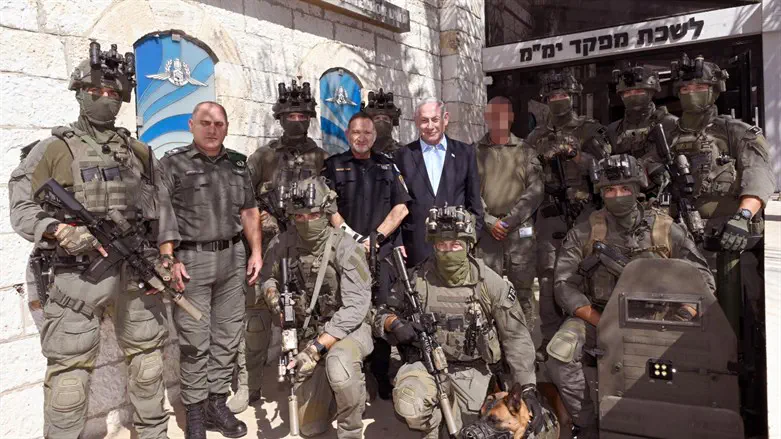 Netanyahu at with the YAMAM
Haim Tzach/GPO
Prime Minister Benjamin Netanyahu on Wednesday visited the YAMAM police special operations unit with National Security Minister Itamar Ben-Gvir.
During the visit, Netanyahu told the operatives: "You justify my government's decision to classify the YAMAM as our national counterterrorism unit."
It was former Prime Minister Naftali Bennett who, a year and a half ago, together with Police Commissioner Yaakov Shabtai and former Public Security Minister Omer Bar-Lev, declared the YAMAM to be Israel's national counterterrorism unit; the decision was decision 900 of the 36th Government.
Our inquiry found that at the beginning of 2019, during a visit by Prime Minister Netanyahu and then Public Security Minister Gilad Erdan to the YAMAM's base, Erdan presented the initiative to approve in the security cabinet the recognition of the unit as Israel's national unit for takeovers and negotiations, but the cabinet did not approve the decision until the Bennett government's decision at the beginning of 2022.
The Prime Minister's Office commented: "In 2019, during PM Netanyahu's term and under his order, the National Security Council held a review which recommended recognizing the YAMAM as the national operative counterterrorism unit.
As mentioned, the Netanyahu government performed the review and its promotion in 2019, but it was not signed. Bennett, as Prime Minister, amid a wave of terror over a year ago, instructed the realization and actualization of the review, which was prepared by the NSC and brought for the government's approval."