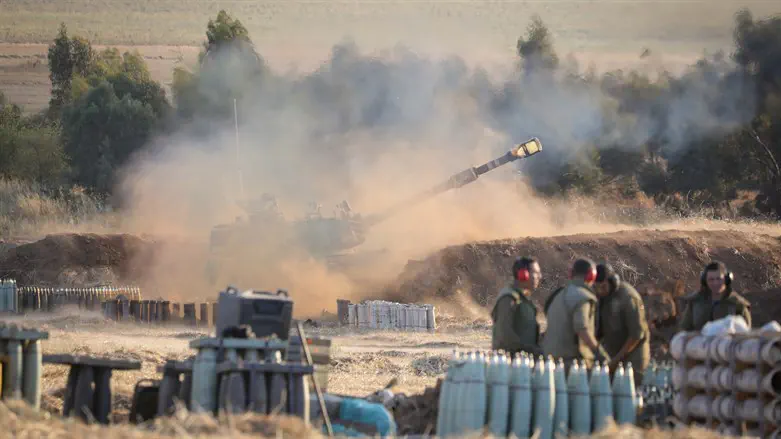 IDF soldiers on the Gaza border
Noam Revkin Fenton/Flash90
IDF Southern Command Commanding Officer Maj. Gen. Eliezer Toledano took a series of command measures following three incidents that occurred during Operation "Guardian of the Walls" in the Gaza Strip in May 2021, in which military targets were struck in violation of obligatory operational regulations.
The incidents were reviewed by the IDF Fact-Finding Assessment Mechanism (FFAM) as part of an inspection and examination process that dealt with allegations and reports regarding irregular events during the operation. This was done in order to examine the conduct of IDF soldiers in light of the existing rules and orders and draw operative lessons from these incidents. According to the IDF, the FFAM operates independently and professionally to optimally clarify the facts concerning the incidents.
The findings of the FFAM were submitted to the Military Advocate General's Corps for examination, with the aim of examining whether the activity complied with the mandatory regulations. After examining the findings, Military Advocate General Maj. Gen. Yifat Tomer-Yerushalmi concluded that the allegations arising in each of the incidents do not cross the criminal threshold and that it is sufficient to take command measures fitting with the deviation from the standards expected of IDF service members without taking additional legal steps. The Commanding Officer of the Southern Command is to take said measures.
One incident involved an officer ranking Col., who was reprimanded for approving the use of artillery shells to strike a target while deviating from the safety ranges. A reprimand procedure will also be conducted in the case of a reserve officer, ranking Col., in relation to the same incident, as he did not point out the deviation from the safety ranges to his commanders. It should be clarified that, as part of the examination, no connection was found between the deviation from the regulations and deaths of those uninvolved.
In another incident, an officer ranking COL faced disciplinary proceedings for negligence for incriminating a target in violation of the mandatory procedure. The officer, who at the time of the incident had the rank of LTC, was sentenced to a warning. In the case of a reserve officer ranking Major, a command reprimand procedure was conducted due to a lack of sufficient control in the striking unit cell, as was found in the examination.
Finally, following a third incident, a command reprimand procedure was conducted in the case of an officer ranking 1st Lt. due to a professional error in targeting procedure. The Commanding Officer of the Southern Command also stated that the officer's authority to incriminate targets will be revoked until the officer passes a new qualification process.
"The IDF does everything in its power to prevent harm to uninvolved civilians when striking military targets. The IDF examines its activities and their results thoroughly," the IDF wrote in a statement.