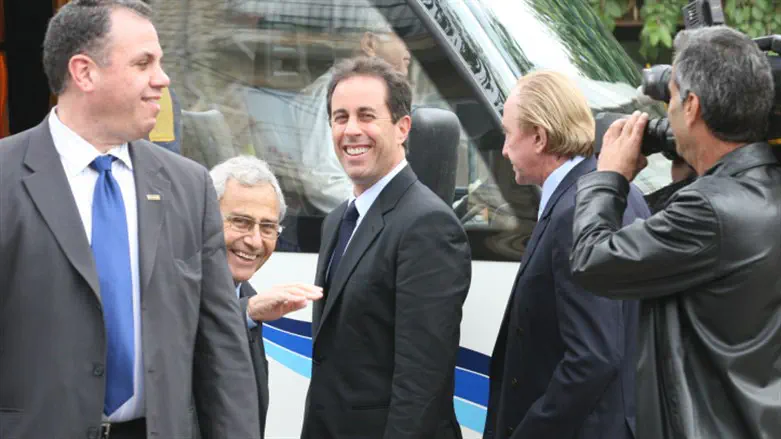 Seinfeld in Israel
Yossi Zamir/Flash 90
Mark Schiff has been opening for Jerry Seinfeld on tour for 25 years, and along the way, he has brought his tefillin.
Schiff said he tries to stay as observant as he can on the road, participating in Shabbat services either at a nearby synagogue or in his hotel room. But he's modest about his commitment.
"I really hope God marks on a curve," he joked.
In a memoir released late last year titled "Why Not? Lessons on Comedy, Courage, and Chutzpah," Schiff details his life and career, from inauspicious beginnings as a kid growing up in New York City to becoming a working comedian alongside a bevy of generation-defining Jewish comics.
While he isn't a household name like Seinfeld or some of his other peers, the penultimate chapter of his book is full of encounters with enough boldfaced names to make Forrest Gump jealous. Schiff has collaborated in various ways with Robin Williams, Chris Rock, Rodney Dangerfield, Carl Reiner, Paul Reiser and more. He was a regular guest on late-night shows such as "The Tonight Show with Jay Leno" and "Late Night with David Letterman," and he landed specials on both Showtime and HBO. Since the 1970s — when he successfully invited Bob Dylan over to his apartment and befriended Anthony Hopkins during his Broadway run of "Equus" — the Bronx native seems to have also met just about every single one of his heroes.
For the most part, Schiff's proximity to these stars came as a result of persistent work over a long period of time. But even for that, Schiff is grateful.
"I wouldn't trade those days for anything, and neither would any of the friends whom I started with," he writes in his book. "On any given night, there were twenty of us vying to go on. There wasn't any other way to put it except that I never felt so alive."
Schiff still "works clean," avoiding those famous four-letter words, in part because that's what most comics did before the advent of streaming and HBO, and in part because of his dedication to his faith. He has always incorporated Jewish jokes into his sets and barely changes his material for audiences that he knows will be heavily Jewish.
As he shared over the phone, Schiff, 71, first caught the comedy bug at 12 years old, when his parents took him to the Boulevard Night Club in Rego Park, Queens, to see Dangerfield, a Jewish comedy legend who arguably got plenty of respect.
"Rodney bust through the curtains and he started telling these one-line jokes and the audience was banging on the table, screaming laughing. I looked at my parents; I had never seen them laugh so hard in their entire life. And I had an epiphany…I said, 'This is it. I know what I want to do for a living,'" Schiff recalled in a phone interview.
From there, Schiff did everything he could to learn the craft of comedy: Watching comedians on TV, buying comedy records and, when he was 16 years old, procuring a fake ID so he could see the greats in person at the The Improv comedy club. Cut to the mid-70s, and Schiff found himself performing regularly at the Comic Strip club alongside stand-ups who were just trying to learn the ropes before going on to dominate our TV screens.
"There was no Seinfeld, there was just this guy Jerry who was just starting out becoming a comedian," Shiff said. Their group included Reiser, Gilbert Gottfried, Hiram Kasten and Larry Miller. "All Jews, sitting at the bar, waiting for the opportunity to get onstage and start getting good at this thing. You know those friends you make like early on in school? Like second grade, they kind of become your friends for life? This is what happened with us."
Schiff, now a longtime Los Angeles resident, has filled his book with so many behind-the-scenes anecdotes of being a working comedian that it makes the perfect follow-up to "The Marvelous Mrs. Maisel" — and it might be even more Jewish. For instance, his use of the Yiddish word shmendrick might not be completely unique, but it's more rare to find a humorous take on the concept of olam ha-ba, or Judaism's afterlife-adjacent "world to come": "Florida without the humidity. Chocolate cake without the calories. Jewish mothers without the screaming."
By the time the COVID pandemic hit, Schiff had been contributing essays to the LA Jewish Journal. When his touring schedule evaporated, he shifted gears and started writing for six, seven hours a day.
"I had a bunch of stories already written and they'd been published, and then the pandemic hit and I said, 'You know, Mark, you might have a book here,'" he said.
He also had some helpful prior experience. In 2007, Schiff co-authored "I Killed: True Stories of the Road from America's Top Comics," which "young comedians consider…almost like the bible of the road," Schiff brags. The book gives the reader glimpses into the ups and downs of the touring life from comedy royalty, from Seinfeld to Joan Rivers to Larry David to Mike Myers.
Schiff's stand-up experience served him well in writing this new memoir. "Each story's about 700 words, and as a comedian, you gotta get to it right away. You gotta get to the heart of the matter immediately," he said. "You can't piddle. So there's very little piddling in this…I could've called the book 'No Piddling' if I wanted to. Very little piddling going on."
Despite the ups and downs that Schiff's book recalls — from a tumultuous childhood to a bout with alcoholism — Judaism and steadfast belief in God are the driving forces of his life. For instance, learning about lashon hara — scandalous gossip that the Bible forbids — taught him to stay away from "punching down" in comedy. ("Although, in order for something to be funny, you certainly have to pick at something," Schiff conceded. "They don't call it a punchline for nothing.")