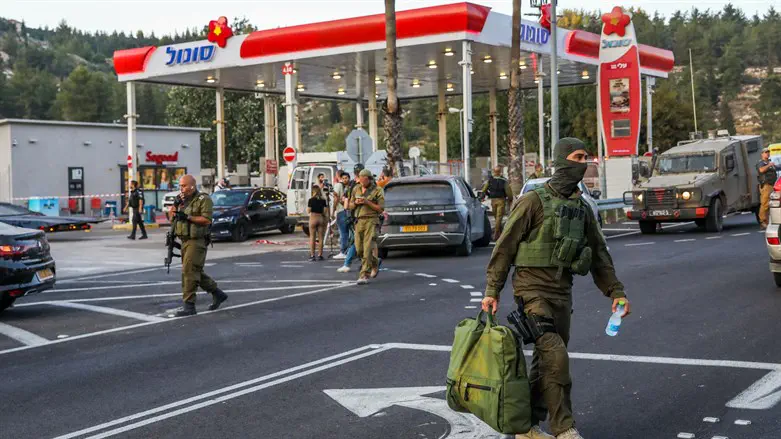 אזור הפיגוע סמוך ליישוב עלי
צילום: פלאש 90
* Translation by Yehoshua Siskin
*Four names:* Ofer, Elisha, Nachman, and Harel. I did not know them personally, but they were there in my name. They were murdered because of what we have in common. If any of us were sitting there eating hummus or filling up our car, we would have been the victims. Thus, these four represent us all.
Dozens of stories:
Tonight I read wonderful stories about 60-year-old Ofer Fierman. He was someone who always cleaned up any trash he found on the ground since, in his words, "The Land of Israel needs to be kept clean." Who will clean up his blood, and that of the other three victims?
I also read wonderful things about the two 16-17-year-old boys, Elisha Antman and Nachman Shmuel Mordoff, and about 21-year-old Harel Masoud, may Hashem avenge their blood. The Hebrew word chalal means both "casualty of war" and void. When someone dies they leave a void behind. The truth of this double meaning is evident when we look at their shining faces and see the irreplaceable radiance in their eyes.
Four more names:
Morel Moise ben Helena, Eran ben Naama, Uri ben Smadar, and Matanya ben Tirza. These are the names of those wounded in the attack, and we should also pray for them as our representatives. May they have a speedy and complete recovery.
And dozens of other anonymous names. I heard an interview with someone from Magen David Adom who was suddenly activated in the region, as were medical teams and doctors working in emergency rooms. And what about the soldiers who were sent to guard, to defend, and to neutralize the terrorist? And the social worker who spent the night in the home of a grieving family, and the neighbors and friends, and the teacher who thought he had finished educating his twelfth graders only to gather his students together to talk about the attack? There are circles within circles of resiliency, lovingkindness, and support that have been doing holy work since yesterday.
Thank you.
On the news there is talk of "Operation Defensive Shield 2," recalling the first Operation Defensive Shield in 2002, when a major campaign was undertaken in Judea and Samaria to put a halt to terrorist activity in those areas. As the first stage in such a campaign, each of us can conduct their own private Defensive Shield. We can simply shout, pray, strengthen, be strengthened, console, continue, and advance -- to perpetuate the memory of those who were slain.
The gas station restaurant where the terrorists attacked is a branch oif a popular chain called Hummus Eliyahu. It has the name of the prophet who will come to inform us that the Messiah will be here shortly.
May we hear such good news without delay.