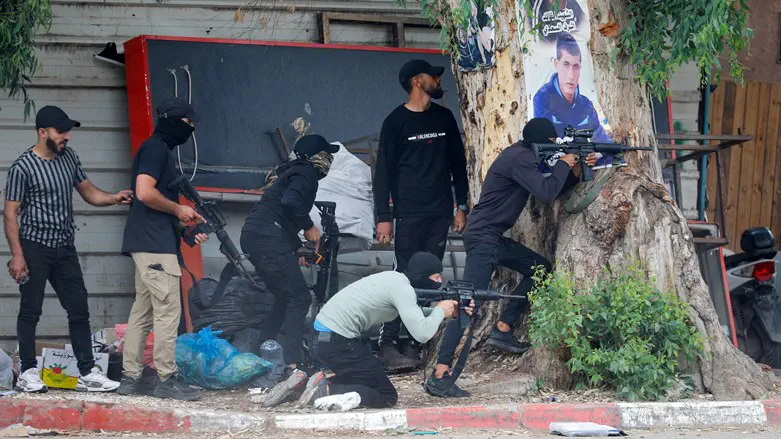 Terrorists in Jenin
Reuters
The military police arrested a number of non-Jewish IDF soldiers who documented themselves in uniform praising and glorifying the Jenin terrorists - after the operation in which seven IDF soldiers were wounded, one of them in a medium-to-serious condition.
The soldiers were arrested last night (Tuesday) and an military police investigation was opened, at the end of which its findings were forwarded to the military attorney's office for consideration.
The soldiers were heard saying "Long live Palestine, long live Jenin. Long live the God of Palestine and Israel go to hell!" Other soldiers nearby can be heard laughing and offering their support as well.
IDF spokesman, Lt. Col. Daniel Hagari, told Channel 2 News: "Currently, five detainees are under investigation and they will receive the most severe disciplinary treatment, but it is important not to throw the baby out with the bath water. The right thing to do is to continue recruiting in all parts of Israeli society."
The military lawyers representing some of the soldiers said that, "in most of the conversation, the suspects came to the defense of the IDF soldiers (wounded in Jenin), and you can tell this from one of the soldiers reacting aggressively when asked to express support for Palestine. In any case, it will be clarified whether the video was edited. It is appropriate that their treatment be disciplinary and not criminal in nature."
The detainees have since been released following the completion of a short investigation.