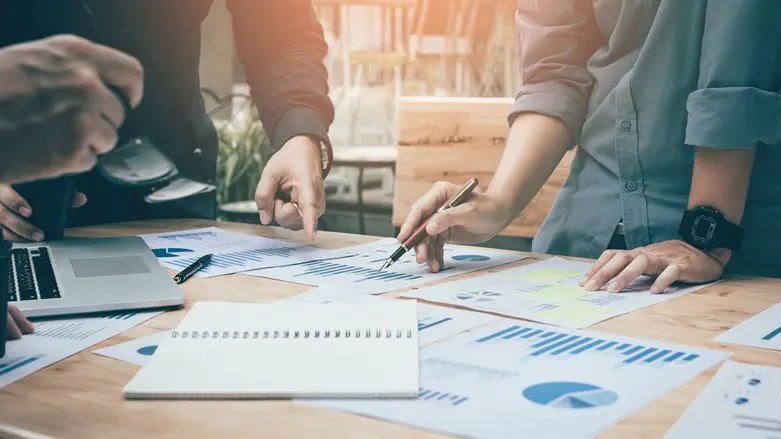 Startup and innovation
iStock
For the first time, the Ministry of Economy and Industry, the Ministry of the Negev, the Galilee and National Resilience, the Ministry of Environmental Protection, the Ministry of Agriculture, the Ministry of Regional Cooperation, the Ministry of Innovation, Science and Technology, and the Israel Innovation Authority have joined together in an initiative which will see 75 million NIS allocated to up to five innovation centers in Israel's geographical the periphery, to encourage entrepreneurship in various fields and high tech employment.
As part of the program, up to 5 franchisees will be selected, consisting of Israeli companies, corporations and non-profit organizations.
Relevant bodies will be invited to submit applications for the establishment and operation of technological innovation centers in the periphery in order to encourage sustainable economic growth in the area of activity. The winners will receive a grant of up to 15 million NIS for five years.
The centers are intended to focus on promoting innovative technologies in agriculture, food, energy, combating climate change, among other areas of interest.
The innovation centers will include programs to encourage entrepreneurship, initiatives to promote of local innovation, training programs to promote employment in the high-tech industry, and more. In addition, the centers will be designed to nurture an ecosystem for the establishment of innovative ventures, forging bridges with local stakeholders such as: academia and research institutions, local government bodies, existing industries, and investors.
The proposals will be evaluated according to business plans to be submitted, with an emphasis on providing a framework to promote all stages of entrepreneurship, and programs to encourage entrepreneurship in the field of technological innovation in a specific field. Additionally, submissions should explore ways to build connections with companies and the wider high-tech industry. In addition, the business plan may include making infrastructures to encourage entrepreneurial ideas, aid in raising capital, and provide tools and programs to strengthen and impart business knowledge and skills to entrepreneurs.
Yitzhak Wasserlauf, Minister of the Negev, the Galilee and National Resilience, said: "I am proud to make this announcement today, for the residents of the Negev and the Galilee - NIS 75 million, all of which is earmarked for the opening of 5 technological innovation and entrepreneurship centers in the periphery. These are important and long-term engines of growth, which will provide local entrepreneurs with the necessary and optimal conditions to achieve economic prosperity and help turn the Negev and the Galilee into independent economic centers. In these innovation centers, the entrepreneurs will have the opportunity to engage with the trailblazers in the high-tech industry, academia and research, as well as finance and funding opportunities. They will receive a practical toolbox to realize their business visions. We will continue to work with full force to promote the Negev and the Galilee for their sake and for the future of the State of Israel."
Idit Silman, Minister of Environmental Protection, said: "Dealing with the climate crisis is a global challenge, but also a tremendous economic opportunity for Israel. We look forward to the establishment of innovation centers in the periphery, which will deal with climate and desert challenges while promoting Israeli technologies. The support we are announcing today is a significant step for the Israeli periphery, and comes hot on the heels of the Ministry of Environmental Protection and the Israel Innovation Authority's work to promote the ecosystem of innovative Israeli climate technologies along the technological value chain – and this time -with an emphasis on the germination phase. I am happy to be a part of this special collaboration, between the Israel Innovation Authority and leading government ministries."
CEO of the Ministry for Regional Cooperation, Gilad Shadmon, said: "The innovation centers are yet another step in promoting the policy led by Minister David Amsalem, to reduce gaps between Israel's periphery and the center, and to provide equal opportunity and strengthen the economic and social resilience of the State of Israel as a whole. The establishment of the centers constitutes a double strategic gain in not only the strengthening high-tech as an important engine of growth in the socio-geographic periphery, but also in the enormous additional value that the centers will have in promoting partnerships across the wider region."
Director General of the Ministry of Economy and Industry, Amnon Merhav, said: "Today we are launching the first inter-ministerial collaboration derived from the government plan for economic growth led by Minister Barkat, in cooperation with a wide range of government ministries, local authorities, non-governmental bodies and more. The cooperation will yield an investment in technological innovation that will be a significant regional anchor for economic development, investments, and employment, based on the relative strengths in different areas of focus. In the coming months we will see more and more programs that will be based on the Porter program and lead to significant investments throughout the country."
Minister of Innovation, Science and Technology Ofir Akunis, said: "The opening of five new innovation centers in the periphery is great news. Our consistent policy is to make innovation accessible to all Israeli society – and this decision is a step towards its realization. Israeli high-tech is the engine of growth of the economy, and as such it is our duty to ensure that all Israeli citizens get an equal opportunity to be a part of it. The seeds of today's investment will be seen in the near future as a huge and profitable contribution to high-tech in particular and to Israeli society in general."
Minister of Agriculture and Rural Development, MK Avi Dichter, said: "The Ministry of Agriculture sees great importance in promoting and encouraging innovation, and encourages the introduction of technology and innovation in local food production. The establishment of these innovation centers is part of the Ministry's concept that will lead to the advancement of agriculture so that it can continue to produce food for the population, and assure food security in Israel under the frequently changing conditions. Centers such as these, produce innovative solutions for food production such as protein from the sea, and alternative protein prodcution, optimizing food production methods, producing food using advanced methods such as InDoor agriculture, dealing with stressful conditions and more, these solutions will be the food for all of us in the coming years."
CEO of the Israel Innovation Authority, Dror Bin, said: "High-tech activity in Israel is mostly concentrated in the center of the country, and in around software-oriented activity such as organizational software, cyber, and fintech, for example. The Israel Innovation Authority is leading a strategy for high-tech diversification in terms of the area of focus, as well as geography and demography. The geographic and demographic periphery has many assets that can be leveraged for the benefit of the diversity of Israeli high-tech, and this moved is aimed at harnessing these strengths and generating greater growth across the country. The development of high-tech in the periphery will strengthen the local areas, and the entirety of the Israeli high-tech industry."