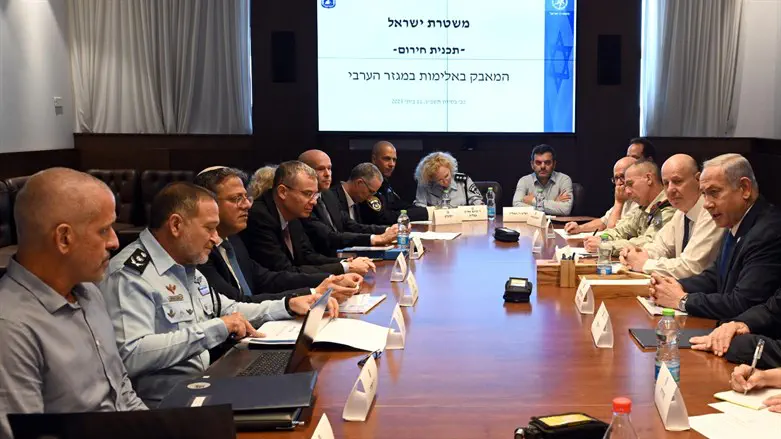 The emergency meeting
Haim Tzach/GPO
Prime Minister Benjamin Netanyahu instructed the Shin Bet on Sunday to prepare to be integrated into the war on crime in the Arab sector.
The order comes at the end of an emergency meeting called by Netanyahu to assess the possibility of enlisting the Shin Bet into the war on Arab crime families. During the discussion, the positions of the Shin Bet, the police, the Justice Ministry, and the ministers were presented.
Shin Bet Chief Ronen Bar said during the discussion that "involving the Shin Bet could cause damage. Our blanket is short (i.e., we are short on resources) it will come at the expense of stopping terrorism."
Attorney General Gali Baharav-Miara claimed that "involving the Shin-Bet could uncover interrogation methods." National Security Minister Itamar Ben-Gvir retorted, "That's not true. You handled cases that the Shin Bet revealed and issued a confidentiality certificate. There's no problem."
According to Kan News, State Attorney Amit Aisman stated: "We also object to involving the Shin Bet in the investigations."
Following the meeting, Prime Minister Netanyahu ordered National Security Council Chief Tzachi Hanegbi to collect operational recommendations, which will be presented during a meeting next week. In addition, a ministerial committee led by the Prime Minister will be formed to discuss the issues of the Arab sector.
Following the meeting, the Prime Minster spoke with Maher Khalilia, the mayor of Yafia, where five individuals were murdered last Thursday. The Prime Minister expressed his condolences and stated that the government is determined to fight the crime families to return peace to the Arab sector.