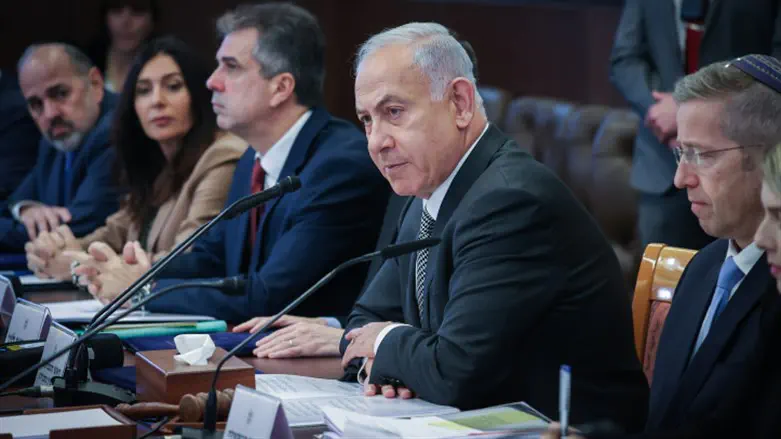 Benjamin Netanyahu at cabinet meeting
AMIT SHABI/POOL
The political-security cabinet is expected to give its approval to a plan to attack Iran if such a proposal is raised by Prime Minister Benjamin Netanyahu and Defense Minister Yoav Gallant, Israel Hayom reported Thursday morning.
Tensions between Iran and Israel have grown in recent weeks following Iran's unveiling of its new "Fateh" missile, which the Iranian regime claims has a range of 1,400 kilometers and is capable of striking Israel.
The commander of the Aerospace Force of the Islamic Revolutionary Guard Corps, Amir Ali Hajizadeh, claimed that no missile defense system in the world can intercept its new hypersonic missile, in a clear reference to Israel's multi-layered missile defense system, which includes the Iron Dome, David's Sling, and Arrow systems.
A decade ago, Netanyahu failed to secure enough votes in the Cabinet to approve a strike on Iran's nuclear program. The assessment is that he would be able to secure a majority now due to the greater immediacy of the Iranian threat and the greater hawkishness of the current government ministers compared to 10 years ago.
The prime minister would not only receive support from the government for a strike against Iran, but from parties in the opposition as well.
National Unity Party chairman Benny Gantz said on Monday at the Jerusalem Post Annual Conference in New York that all of Israel would unite behind the government if a strike against Iran was necessary.
"We cannot allow Iran to obtain nuclear weapons," said Gantz, adding, "As an opposition leader, I want to emphasize this message: We will do whatever it takes to prevent an existential threat to the State of Israel. We know such action might come at a great cost, but, as always in these matters, all of Israel's leadership and people will unite."
Iran has enriched uranium to 84% purity, according to the International Atomic Energy Agency, just below the 90% threshold required to produce nuclear weapons and many times the level of purity needed for any non-military purpose.