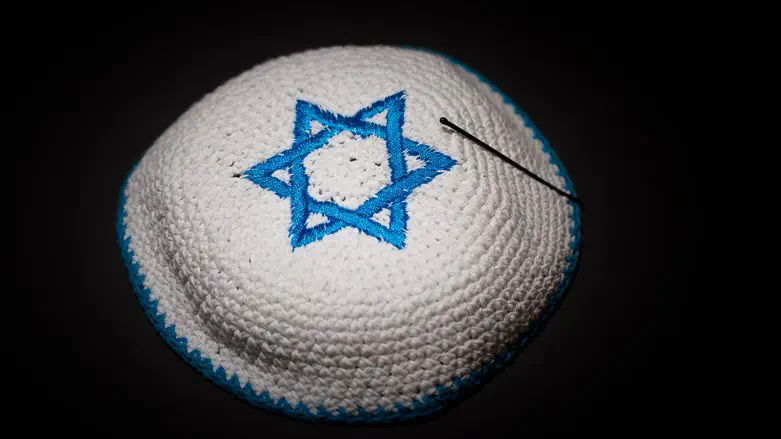 Kippah (yarmulke)
צילום: ISTOCK
Members of an Israeli delegation were denied entry into Jordan Tuesday, after border guards refused to allow those wearing Jewish garb from entering the country.
The incident occurred at the Rabin border crossing in Eilat, on the border with the Jordanian port city of Aqaba, when a delegation of Israeli municipal leaders tried to enter the Hashemite kingdom for an educational tour.
Jordanian border officials ordered the delegation members to lift up their shirts, so that the guards could see if they were wearing any religious Jewish garments underneath.
Tour participants who were not wearing identifiably Jewish garb, such as kippot (yarmulkes) or tzitzit (a four-cornered, fringed traditional Jewish garment) were permitted to cross the border, while those who were wearing religious garments were refused entry.
One participant told Israel Hayom that a Jordanian border guard took his kippah and threw it in the trash.
The delegation said that they had attempted to hide any Jewish garb before attempting to cross the border, and were surprised by the lengths to which the Jordanian guards went to search for any such items.
Several members of the delegation, including the director-general of the municipality of Modi'in Illit – a haredi city in western Samaria – and the director-general of the Binyamin Regional Council in Samaria, refused to hand over their kippot and tzitziot, and instead returned to Eilat.
"We wanted to put the tzitziot and kippot away in our bags, but they didn't agree," one member of the delegation told Israel Hayom. "We were instructed to collect [all the Jewish items] and return them to Eilat. It's so shameful; if we would have done something like this at the Israeli border or the entrance to the Temple Mount and said there was no problem so long as you leave behind any religious items, the whole world would have condemned us."