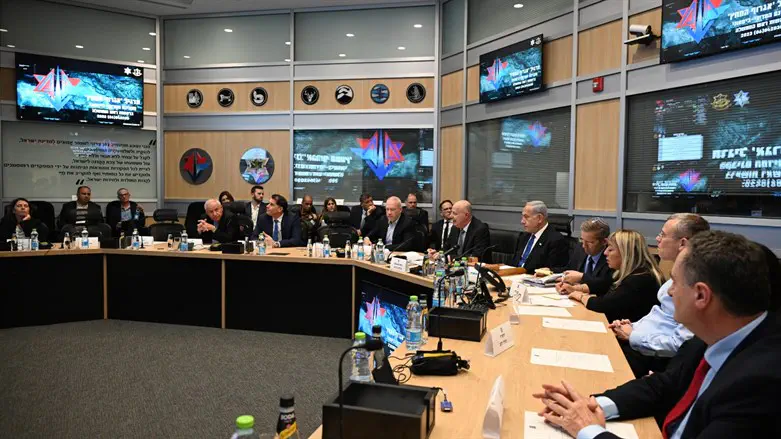 Cabinet meeting
Haim Zach/GPO
The Security Cabinet, chaired by Prime Minister Benjamin Netanyahu, convened on Sunday evening in the framework of the "Firm Hand" military exercise, at the IDF command center at the Kirya in Tel Aviv.
The Prime Minister and the Cabinet ministers are taking part in the exercise, which simulates conflict erupting in the north and spreading to other arenas.
Netanyahu said at the start of the simulated Security Cabinet meeting, "The reality in our region is changing rapidly. We are not stagnating. We are adapting our combat doctrine and our possibilities for action in keeping with these changes and our goals, which are not changing."
"We are committed to acting against the Iranian nuclear program, against missile attacks on the State of Israel and against the possibility of the fronts becoming linked, what we call a multi-front campaign," he added.
"This requires us to evaluate, if it is possible to do so in advance, many of the main decisions that the Security Cabinet and the Government would need to make together with the security establishment, the IDF and other security elements," continued Netanyahu.
"This is the goal of the exercise. We are certain that we can deal with every threat by ourselves, and also by other means," he concluded.