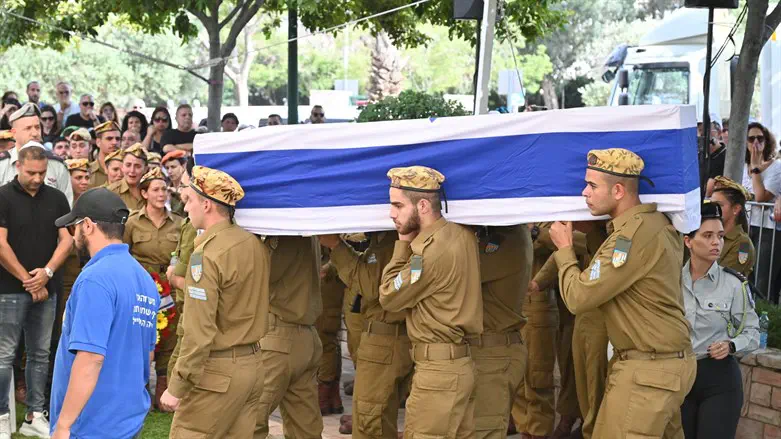 Funeral of Lia Ben Nun
צילום: יוסי זליגר/TPS
Three Israeli soldiers murdered in a terrorist attack on the Egyptian border on Saturday were laid to rest Sunday.

Thousands of mourners gathered at the three funerals, beginning with the funeral for 19-year-old Sergeant Lia Ben-Nun at the military cemetery in Rishon Letzion.
Ben-Nun's grandmother eulogized at the beginning of the ceremony, crying out, "I want you to come back, my granddaughter. We want answers."
Her sister, Ofir Ben-Nun, also eulogized Ben-Nun, saying, "My little sister, we were two, and now I am alone. I love you, and I already miss you. You were a ray of sunshine, a heart. You were everything to me. I promise to take care of our family. We will be a happy family that loves Lia and remembers her."
Brigadier General Amit Yamin, commander of the Bardelas Brigade, spoke during the funeral, highlighting Lia Ben Nun's exceptional bravery. "You were an anchor, always ready to help and contribute, always with a smile on your face and a proactive mindset. Your character was characterized by a boundless dedication that burned within you."
"Your success in pursuit of your goals was quickly recognized by the command. You were always friend and spread light. You were an exemplary figure as a soldier. Your character and legacy will accompany us forever," he added.
The Mayor of Rishon Letzion, Raz Kinstlich, offered his condolences to Ben-Nun's family.
"Yesterday morning, your world and our world came to a halt upon hearing of Lia's murder. An entire city and country held their breath, but it does not compare to the pain and suffering you, her family, her parents, and close friends are experiencing. Nineteen-year-olds should live, have fun, dream, aspire, enjoy life, share experiences with their parents and family, and not be buried at such a young age."
At 5:00 p.m. Sunday, mourners gathered for the funerals for Staff Sergeant Ohad Dahan, 20, and Ori Yitzhak Illouz, 30, at the military cemeterys in Ofakim and Tzfat (Safed) respectively.