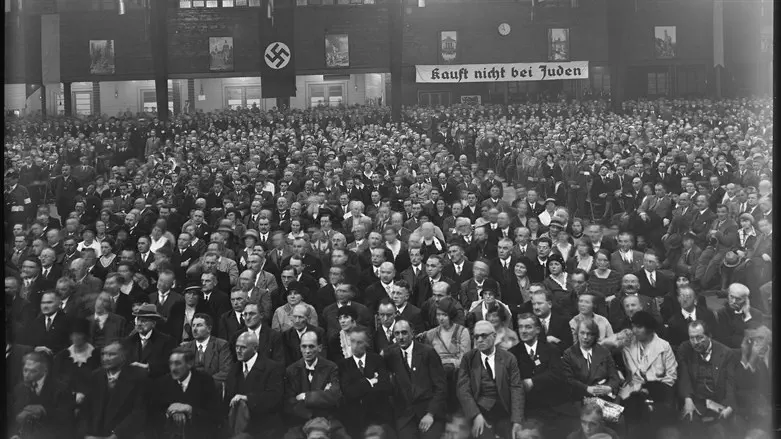 Nazi Party political rally in Germany
National Archives and Records Administration
The Manila Times reports that the world's largest grassroots Holocaust memorial project has laid its 100,000th personalized plaque, as the US ambassador to Germany and daughter of Holocaust survivors Amy Gutmann honored her family members who fled the Nazis with an emotional ceremony.
Ambassador Amy Gutmann joined sculptor Gunter Demnig in the picturesque southern city of Feuchtwangen to lay eight blocks for her German-Jewish relatives. "As the US ambassador, the daughter of Kurt Gutmann, a Jewish refugee from Feuchtwangen, I feel like we have come full circle from trauma to tribute," she said.
Her ancestor, Kurt Gutmann, left Germany for India in 1934, while still a student, when he realized he and his family would not be safe under Adolf Hitler's rule. His parents and five other relatives would eventually join him there as the Final Solution began to take shape.
He later settled in New York, where Amy Gutmann was born.
"With enormous foresight for a young man of only 23, Kurt Gutmann, my father, recognized the madness that was sweeping his home country," said Gutmann, 73, fighting back tears. "He was a hero. I have learned more over the past year about what my family experienced in Nazi Germany than I ever heard from them," describing a "wall of silence" around Holocaust survivors.
Gutmann told guests at the commemoration in Feuchtwangen, which had an 800-year-old history of Jewish life, that the Stolpersteine gave her "the honor of bringing some closure for my family."
Stolpersteine, or "stumbling blocks", was started three decades ago, and has since The memorial consists of brass plaques the size of cobblestones embedded in front of the last known homes of victims of the Holocaust, each bearing a stark engraving with the name of a victim, birthdate, date of deportation or escape and, if known, date and place of death.