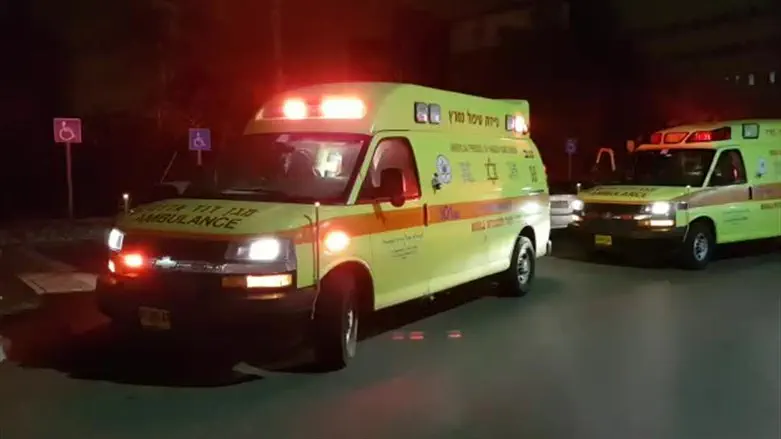 Ambulance
Magen David Adom
An IDF soldier suffered light injuries in a shooting attack on the road between Homesh and Shavei Shomron in northern Samaria overnight Thursday.
The IDF said that terrorists fired five bullets at a military force from the direction of the Palestinian Arab town of Deir Sharaf, located northwest of Shechem (Nablus). The soldier was wounded from shrapnel in his leg.
IDF forces are conducting searches in the area.
The attack occurred hours after terrorists fired at an IDF post near the town of Neve Tzuf in the Binyamin region. No one in the post was injured.
A short while later, two Palestinians were brought to Magen David Adom care at the entrance to Neve Tzuf: A three-year-old boy with critical injuries and a forty-year-old man with serious injuries. The IDF Spokesperson's Unit said that an initial investigation found that the two Palestinian Arabs were injured as a result of fire by IDF soldiers, who were firing back at the terrorists.
On Tuesday of this week, 32-year-old Meir Tamari was murdered in a shooting attack near the town of Hermesh in northern Samaria.
Initial investigations show that a passing car with two terrorists in it passed Tamari's car and the terrorists fired an estimated seven bullets at him with an M16. The terrorists then fled the scene.