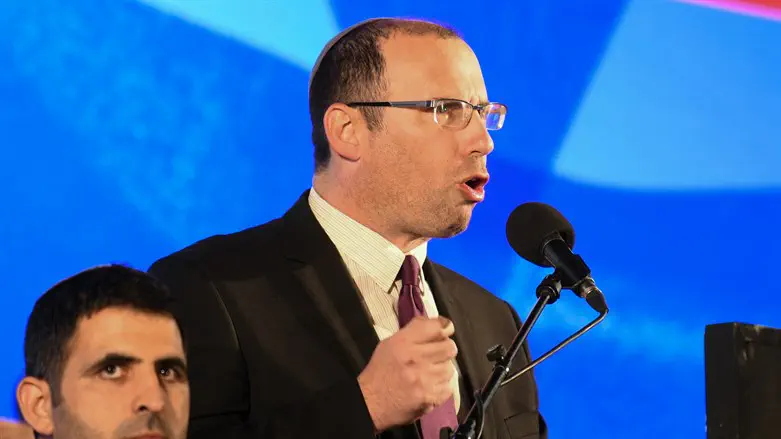 Simcha Rothman
צילום: אריה לייב אברהמס, פלאש 90
MK Simcha Rothman (Religious Zionist Party), Chairman of the Knesset Constitution, Law and Justice Committee and one of the architects of the government's judicial overhaul, excoriated left-wing protesters Thursday over their plans to use an upcoming pro-Israel parade in New York to demonstrate against the Israeli government.
The annual Celebrate Israel Parade, which is set to take place in Manhattan on Sunday, is expected to draw thousands of revelers, along with various activist groups who vowed to use the event as an opportunity to protest the government's judicial reform plan.
"In times when anti-Semitism is once again on the rise, it is our duty to ensure that the precious relationship between the State of Israel and the Diaspora Jews remains above all political controversy," Rothman wrote Thursday. "Diaspora Jews are our brothers and sisters. They are not, and should never be, a political chip."
"To the leaders of the protest against Israel's democratically elected government, I say today: is it not enough that you worked to damage critical unity among our fighting forces, and have both incited to and committed violence in Israel?"
"On Sunday, your disruption of New York's upcoming Israel Day Parade – in which representatives from the coalition and the opposition are marching together to symbolize unity with the Diaspora Jewry – will be yet another violation of an important Jewish and democratic value."
As negotiations for a compromise plan mediated by President Isaac Herzog continue, Rothman urged the president to intervene against plans by left-leaning groups to demonstrate at the upcoming parade.
"I call on President of Israel Isaac Herzog to condemn the organizations who stand ready to destroy the State of Israel's most important relationship with world Jewry just to gain points in a domestic political struggle."
"President Herzog must also demand that the political leadership of the Opposition, MK Yair Lapid and MK Benny Gantz, swiftly and sharply condemn these actions."
"The desire of Israeli protestors to attempt to sabotage the Israel Day Parade – as well as attempts by BDS activists, anti-Zionist groups, and supporters of terror – requires a strong statement from any Zionist leader."
"Members of the Jewish community in New York: Reject those who would divide and weaken us. Walk with me and my fellow representatives in a celebration of Jewish and Israeli achievement, pluralism, and unity."