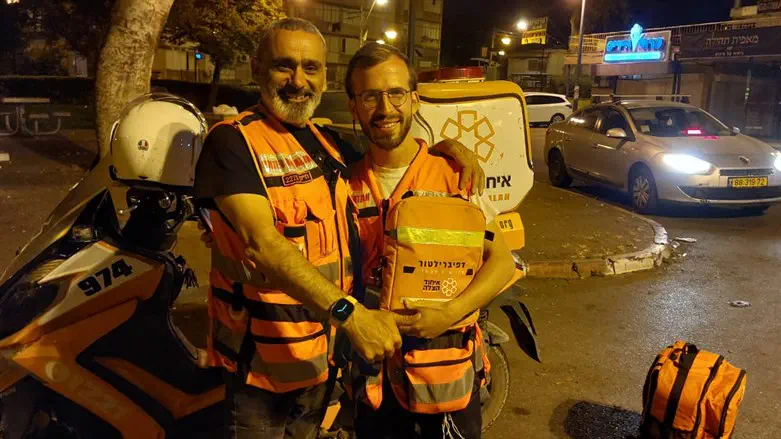 Chaim Avni (l) and Baruch Frid (r)
United Hatzalah
Last night just before 1 a.m., a man in his 70s suffered a cardiac arrest and collapsed on the streets of Kiryat Ata, prompting immediate action from passersby who alerted emergency services.

Chaim Avni, a volunteer EMT, was awakened from his sleep by the urgent call. He swiftly got dressed and headed toward the reported location. At the same time, fellow United Hatzalah volunteer EMT Baruch Frid also received the alert and joined Chaim en route to the scene.

Upon their swift arrival, Chaim and Baruch discovered a policeman performing chest compressions on the unconscious individual. They instructed him to continue the compressions while they prepared their medical equipment. The pair attached a defibrillator and began setting up and providing assisted ventilation using a bag valve mask.

Working alongside the policeman, Chaim and Baruch continued performing chest compressions. After a tense moment, they administered the first shock through the defibrillator, hoping to restore a regular heart rhythm.

Soon after, additional first responders arrived. With the influx of support, the team coordinated their efforts in order to save the man's life. A second shock was administered, and the collective efforts of the responders bore fruit as the man's pulse returned.

Ten minutes after Chaim and Baruch, an intensive care ambulance arrived at the scene. The specialized medical team took charge of the patient's care and transported him to the hospital.

Reflecting on the intense experience, Chaim expressed deep gratitude for the opportunity to make a profound difference in people's lives. "It feels incredible," he said. "Even though I started volunteering as an EMT recently, I try to respond to as many calls as possible and unfortunately I have been at quite a few CPR emergencies where there was nothing we could do to save the patient. This incident was thankfully different."