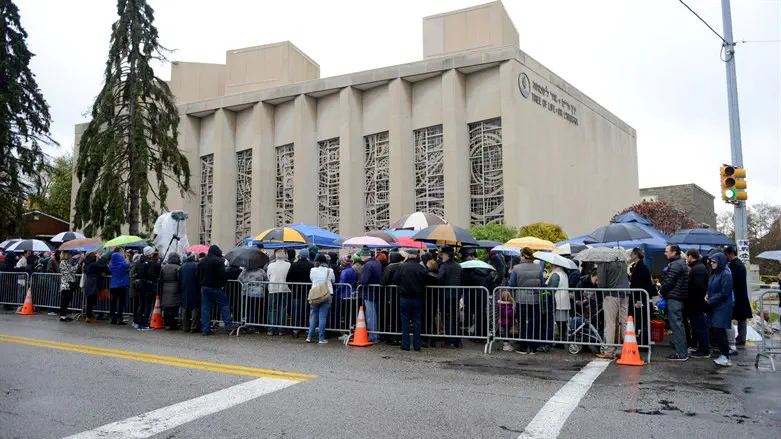 Tree of Life Synagogue in Pittsburgh
Reuters
A powerful image of a siddur (Jewish prayer book) damaged with a bullet hole was presented as evidence Wednesday in the trial of the man accused of killing 11 worshippers at the Tree of Life synagogue in Pittsburgh in 2018, CNN reported.
The photo was entered into evidence during testimony on Tuesday by Rabbi Jeffrey Myers, the rabbi of the Tree of Life synagogue.
Rabbi Myers testified that damaged prayer books are traditionally buried as a sign of respect in the Jewish faith, but he decided to keep this siddur.
"It's a witness to the horror of the day," he testified. "One day when I'm not there, this book tells a story that needs to be told."
That and other images were released publicly the same day several survivors of the shooting testified about their split-second actions and decisions during the attack.
Robert Bowers, 50, has pleaded not guilty to 63 charges, including obstruction of free exercise of religious beliefs resulting in death and hate crimes resulting in death.
Bowers was armed with an AR-15 and three handguns and allegedly yelled "I want to kill all Jews" during the attack.
A federal prosecutor told the court on Tuesday that Bowers "methodically" tracked down his victims and shot many of them multiple times and at close range.
The photo of the damaged siddur was one of a number of photo exhibits released to the public Wednesday morning, including images of the congregants present the day of the shooting and images of the synagogue after the attack.
One exhibit shows crime scene tape and drops of blood on the floor of one part of the synagogue. Another exhibit shows police body camera video of Myers exiting the synagogue and passing a line of police officers while clutching his yarmulke on his head.
In testimony Wednesday, a survivor of the shooting recounted how she and other congregants were ushered into a closet to hide from the gunman.
Earlier this month, a judge ruled against a defense motion that challenged the government's pursuit of the death penalty for Bowers, if convicted.
Bowers' defense team has argued that the defendant suffers from schizophrenia. They offered a guilty plea in exchange for life in prison, which was rejected by the prosecution.