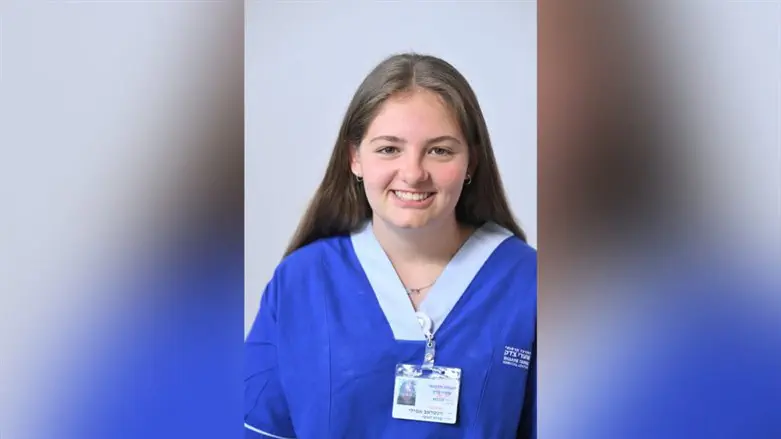 Emily Weintraub
Authority for National Civic Service
Next week, the Authority for National Civic Service will hold its annual award ceremony for its outstanding volunteers. One of the recipients is Emily Weintraub from New York.
Weintraub, 20, came to Israel to volunteer through the Israeli Volunteer Association as a nurse's assistant at the Shaare Zedek Medical Center in Jerusalem.
Weintraub decided to volunteer at Shaare Zedek because she hopes to be a doctor someday. "I also requested the oncology unit because I know how meaningful it could be to help someone who can't do as much as they used to. Sadly I know from my family member's experiences how the small things can help someone with cancer. For example, just bringing someone an ice pop while they are doing their chemo treatment can really take away the bitter taste in their mouth from the chemo," she adds.
When it comes to her experiences while volunteering, one memory stands out for Weintraub, "There was a patient in the hematology ward that I became very close with, and all she wanted every morning was a cup of milk because all she ate was cereal. So every morning, I brought her a cup. When I visited my family in America, I went to say goodbye to her and hoped she would go home while I was away. When I can back, I saw her name on the list of patients, so I went to drop my stuff off, and I was going to go to her room. Then all of a sudden, I hear someone say my name, and I turn around, and it's the patient. I went over to her, and she gave me a huge hug, and then she said, 'You know I am not touching anyone, but I had to give u a big hug.' She went through a procedure and was supposed to be in isolation so that she won't get sick because her immune system was weak. Then when I was bringing her food, I brought her a cup of milk, and she was so happy and touched that I remembered to bring her milk. It meant so much to me to see her, and I know it also meant a lot to her."
Emily says she came to Israel to volunteer because she wanted to give back to the people who live in Israel and be immersed in Israeli life. She adds that for her, there is a special significance in coming to serve in Israel: "My grandmother's parents made Aliyah from Yemen in 1920, and she was born in Israel. When she was three years old, they moved to America. So when I decided to move to Israel, it felt like our family was returning to where it started. If she never moved to America, we would all be here now. When I visited her this year, she asked me how it was going, and she said, 'Maybe I should come back with you.' I know she was kidding because she was 98, but it still feels like we are all coming back."
When asked how she feels about receiving an award for her outstanding service, Emily says, "Honestly, I didn't know what this award was because I'm new to the world of National Service. It feels really good because it feels like I did something good and important."