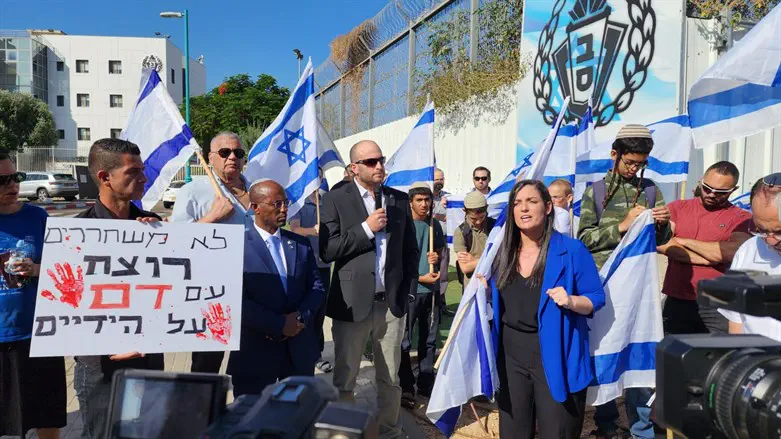 Wednesday's protest
Spokesperson
Israeli protesters gathered outside of Maasiyahu prison in central Israel Wednesday, to protest the possible release of an Israeli-Arab terrorist who was part of the cell which kidnapped, tortured, and murdered an Israeli soldier nearly 40 years ago.
In August 1984, a group of terrorists from the Popular Front for the Liberation of Palestine abducted IDF soldier Moshe Tamam, with plans to smuggle him out of the country to Syria.
During his captivity, the terrorists tortured Tamam, leaving his body severely mutilated.
Fearing capture before they reached the Syrian border, the terrorists shot and killed Tamam in northern Samaria, where his body was later found by an Arab shepherd.
One of the terrorists involved in the murder, 62-year-old Walid Daka, is suffering from terminal cancer, and has requested that he be released from prison. He is currently being treated at Assaf Harofeh Medical Center, under security.
On Wednesday, Israel's Prison Service convened a hearing to consider Daka's request, drawing protesters led by Moshe Tamam's niece, Ortal Tamam.
MK Yitzhak Kroizer (Otzma Yehudit) joined the protest, demanding the Prison Service parole committee reject Daka's request.
"This despicable terrorist had no mercy on Moshe before he murdered him, he tortured him. There is no reason in the world that we should have mercy on him."
Two years ago, another member of the cell responsible for Tamam's murder, Rushdi Hamdan Abu Mukh, was granted a release, sparking celebrations in his home town of Baka al-Gharbiya. Abu Mukh was paid some 1.5 million shekels by the Palestinian Authority during his prison term, Palestinian Media Watch reported.