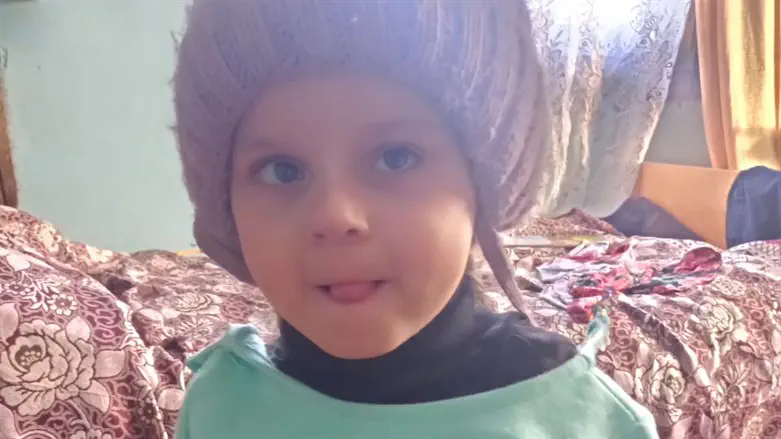 4-year
צילום: IJCF
In a heart-wrenching plea for help, 4-year-old Chana Kagan, accompanied by her devoted parents Michoel and Esther, shares her courageous fight against a devastating liver tumor. Born after years of struggle and hope, Chana's journey has taken an unexpected turn, pushing her family to the brink of desperation.
It all began innocently with a rash on Chana's back, mistakenly attributed to spring allergies. Despite numerous attempts with ointments and medicines, the condition worsened, leading to a fateful collapse during her mother's birthday celebration. The shocking diagnosis revealed the presence of metastases from a destructive liver carcinoma.
Since then, Chana has endured grueling chemical and radiation treatments, bearing immense suffering both physically and emotionally. Medical professionals are now awaiting her readiness for more intense radiation therapy, a critical step on the path to a potential liver transplant.
Tragically, delayed detection has compounded Chana's condition, leading to the formation of large blood clots and infections within her fragile liver. The situation has necessitated a liver transplant, an expensive procedure that can only be pursued once she recovers from the ongoing radiation treatments.
The toll on Chana's parents has been immeasurable. Their lives have come to a halt as they navigate a maze of medical appointments, hospitals, and healing institutions. The burden has been further exacerbated by the closure of their business, leaving them without a source of income. As financial resources have depleted, the continuation of Chana's treatments hangs in the balance, risking the unthinkable - the loss of their beloved child.
With unwavering determination, Chana clings to her radiant spirit, finding solace in the company of her friends. Despite the loss of her golden hair, she remains a beacon of grace and sweetness, determined to fight for her life. However, time is running out, and the pressing need for financial support has become the sole obstacle preventing her from receiving the life-saving treatment she desperately needs.
Chana's parents have already invested countless resources, both financial and emotional, in their journey to bring her into the world. Now, burdened by astronomical medical expenses, they implore the community for help, yearning to witness their daughter's future milestones and dreams unfold. They envision a life beyond the confines of hospitals and treatments, cherishing the hope of one day witnessing Chana's wedding and the joy of her own children.
By lending a helping hand, you can ensure Chana's chance at life. Your generosity will not only save her life but also provide her parents with the means to continue paying for her treatments and the potential transplant. Together, we have the power to create a future filled with hope, love, and the indescribable joy of a child's laughter.
Every contribution you make will forever be etched in the tapestry of Chana's life and the family she will build. As the age-old adage goes, saving one Jewish soul is akin to saving an entire world.
Chana, her family, and their hearts burdened with gratitude, extend their sincerest appreciation for your support and prayers. From the depths of her small and tormented heart, Chana wishes you all the blessings and happiness in the world.