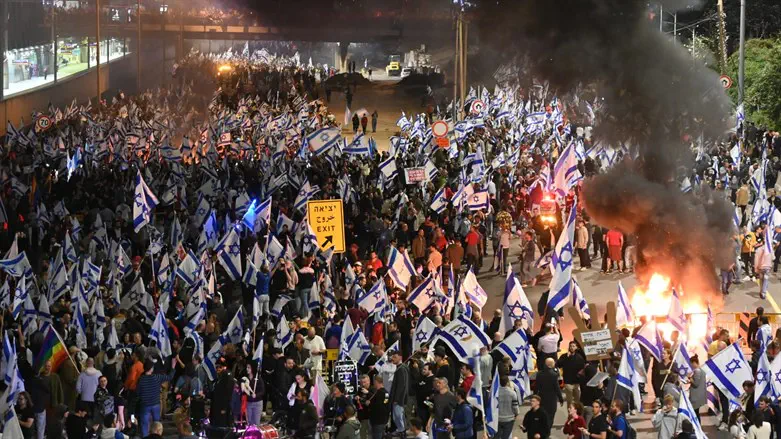 Protest in Tel Aviv
Yossi Zeliger/TPS
Knesset members from the Likud Party raised with Prime Minister Benjamin Netanyahu, during a faction meeting, the difficulty in dealing with left-wing demonstrations that have been disrupting their way of life.
During the discussion, MK Danny Danon put forward a proposal to advance legislation that would ban demonstrations outside the homes of public figures. Netanyahu expressed his willingness to examine the proposal, according to a report on Monday by Channel 12 News' Daphna Liel.
MK Yuli Edelstein was quoted by Channel 13 News as saying at the faction meeting, "I'm not a big coward, but I don't know how I would survive in this situation if I wasn't receiving security detail. The normative, serious protesters who were truly concerned about what is happening in the country, they are coming off the streets. Those who remain are the hard core, violent, aggressive ones - and not just verbally."
Knesset Speaker Amir Ohana added, "I fear that the reason the Israel Police do not give the proper answer is that they know they will not receive backing when they ask to prosecute [the rioters] from the State Attorney's Office, from the Attorney General, for reasons that I'm not sure this is the place to go into detail - but everyone understands what I'm talking about."