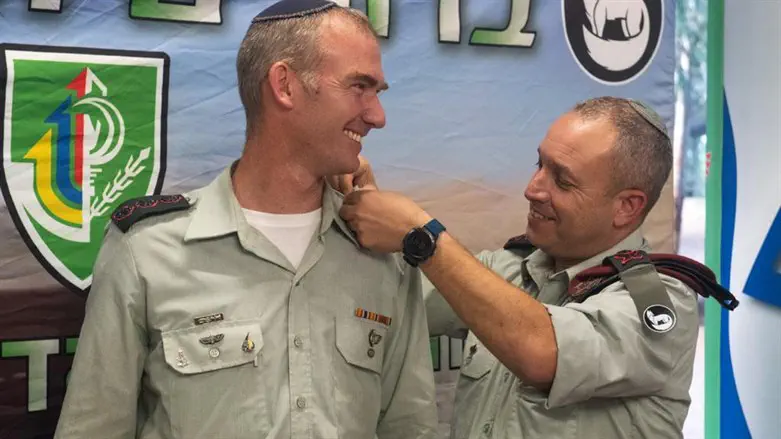 Yehonatan Steinberg (l)
IDF spokesperson
On Sunday, Col. Oran Simha concluded his position as the Commanding Officer of the Nahal Brigade.
Simha will be replaced by Col. Yehonatan Steinberg, after serving in the position for approximately a year and nine months.

The exchange of command ceremony was held today at the Nahal Brigade Memorial in Pardes Hana. It was led by the Commanding Officer of the Southern Command, MG Eliezer Toledano, and the Commanding Officer of the 162nd Division, BG Nadav Lotan and included the participation of commanding officers of brigades throughout the years, additional commanders, soldiers, families and guests.

"For over 40 years, the Nahal Brigade has been putting Zionism into practice, honoring security, land and arms everywhere and in every task," said Commanding Officer of the 162nd Division, BG Nadav Lotan.
"Over the past two years, you have proved the human advantage in operational activity, in training, in your curiosity and desire to learn."

At the ceremony Sunday, Simha said: "The last two years were characterized by extensive operational activity in all arenas. The brigade's battalions operated with determination and courage in multiple operations, apprehended hundreds of suspects, prevented dozens of attacks and harmed a large number of terrorists."
"To me, commanding the Nahal Brigade has been a great source of pride as well as a privilege. I witnessed the "People's Army" in all its glory, day in and day out - A human mosaic, a rich variety of unique people who are united in their mission and share a fate. You have proved that the green beret is a symbol of operational norms, discipline, standards and military culture. Continue on this path, for it is the only one that will lead us to victory".

Incoming Commanding Officer of the Nahal Brigade, Col. Yehonatan Steinberg said: "Wanting, preparing, winning. Three words, three commands that simply embody the essence of our role and the magnitude of our responsibility."
"Wanting - we are required at all times to preserve and perfect our personal and collective will. Will cannot be bought; it can only be acquired with a deep understanding of the foundations we share.
Preparing - utilizing every moment and resource provided to us to prepare for the coming war. Not taking any shortcuts - in readiness, training, perspectives and means.
Winning - win every mission and overcome every challenge every single day. Win clearly and decisively on the battlefield on the day of command."
"Today, I return to my quarry, to a brigade that combines humility and bravery alongside a unique human mosaic."
With a heavy sense of vocation and responsibility, I accept upon myself the privilege to command the Nahal Brigade."