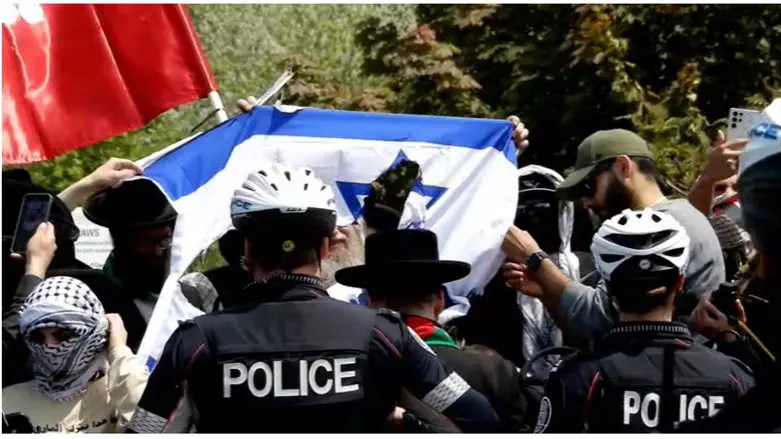 Pro-Palestinian Arabs and Neturei Karta demonstrate in Toronto
Facebook
The UJA Federation of Greater Toronto on Monday held its annual Walk with Israel, with the goal of demonstrating the Jewish community's support for Israel and to raise donations to aid projects for the advancement of needy populations in Israel.
Thousands of Jews and supporters of Israel marched through the streets of Toronto towards the Jewish Community Center, waving Israeli flags and singing Israeli songs.
On the other side of the Jewish Community Center, dozens of Muslims, Palestinian Arabs, left-wing activists and representatives of Neturei Karta demonstrated against the State of Israel and the Jewish community which supports Israel.
The demonstrators expressed open support for Hamas, for launching of rockets at Israel and for Jihad and called for an intifada, the annihilation of Israel and the return of the "Zionists" to the places from which they came to "Palestine".
Towards the end of the march for Israel, the pro-Palestinian Arab protesters burned Israeli flags. The participants of the Walk for Israel stood on the other side and sang Israel's national anthem, "Hatikvah".
Neturei Karta is a radical, anti-Israel group whose activists regularly take part in anti-Israeli demonstrations around the world, including those identified as pro-Iranian or supporters of armed Palestinian Arab resistance against Israel.
Neturei Karta's support for the government of Iran and for terrorist groups has led to its ostracization by the wider haredi community.
טורונטו: שריפת דגל מול שירת התקווה