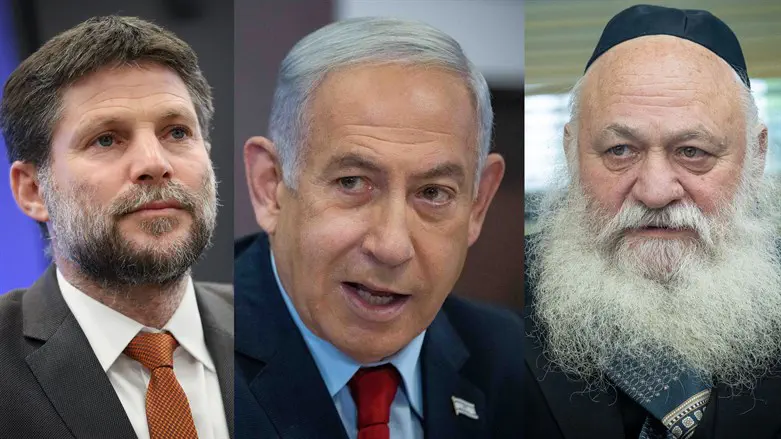 Smotrich (l), Netanyahu (c), Goldknopf
Noam Revkin Fenton & Yonatan Sindel / Flash90
Prime Minister Benjamin Netanyahu, Finance Minister Bezalel Smotrich, and the United Torah Judaism party reached an agreement Monday afternoon on additional funding for yeshiva students, ending the ongoing coalition crisis and paving the way for passage of the state budget this week.
According to the agreement, 250 million shekels will be allocated to stipends for yeshiva students, while budget bills proposed by Smotrich will remain unchanged.
UTJ's Agudat Yisrael faction, which represents the Hasidic movements within the haredi sector, had threatened to vote against the budget and thus topple the government if its demands for 600 million shekels in funding were not met.
While the budget already included increases in funding for haredi schools and yeshiva students, Agudat Yisrael had demanded the Likud retroactively apply the increased rate of funding to the first half of the year, before the new budget takes effect.
If the treasury reports a surplus during the next two fiscal years, additional funds will be allocated to the haredi sector, the UTJ, Prime Minister Netanyahu, and Finance Minister Smotrich agreed.
Yisrael Beytenu chief MK Avigdor Lieberman excoriated the government over the deal, saying: "Smotrich and Netanyahu have surrendered. Over half a billion shekels will be transferred to the haredi parties. It's not enough for the haredi businessmen to monopolize the kosher certification system; now they are also slaughtering the middle class."
The agreement comes just days after Minister of Housing Yitzhak Goldknopf (UTJ) announced his intention to resign from the government and vote against the budget in the Knesset if his demands are not fully met.
The government has until May 29th to pass a spending plan, or face early elections and dissolution of the Knesset.