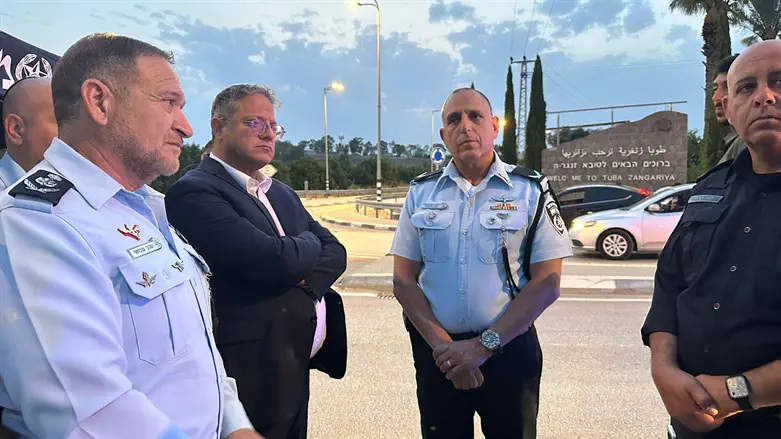 Ben-Gvir (2nd from left) visits Tuba-Zangariyye
Spokesperson
Israeli National Security Minister Itamar Ben-Gvir visited the Israeli-Arab town of Tuba-Zangariyye early Monday morning, together with the Police Commissioner Kobi Shabtai, as part of a special operation in northern Israel targeting Arab gangs extorting businesses with protection rackets.
Sixteen people have been arrested thus far on suspicion of extortion as part of the raids in multiple Arab towns in the Galilee
In Tuba-Zangariyye, checkpoints were set up at all entrances and exits of the town, with inspections conducted on all incoming and outgoing vehicles.
Ben-Gvir and Shabtai received a field briefing from the Deputy Commander of the police department's Northern Sub-District, Kobi Karni, on the raids conducted thus far and the plans to continue the operation throughout the day.
During the briefing, Ben-Gvir vowed 'total war' against organized crime.
"This is a very important operation. People are reaching out to me, and I can hear the pain, the despair, and the severity of this phenomenon called extortion. There are normative individuals here, but there are also criminals, and it must be clear that we are conducting a war against criminals who are exacerbating the lives of the residents here, Jews and Arabs alike."
"I know that the Commissioner is undertaking numerous operations aimed at combating extortion. Extortion here is getting out of hand and crossing all red lines, so it is important that we continue to respond forcefully. These checkpoints need to be here all the time. There are excellent officers and policemen here," he concluded.