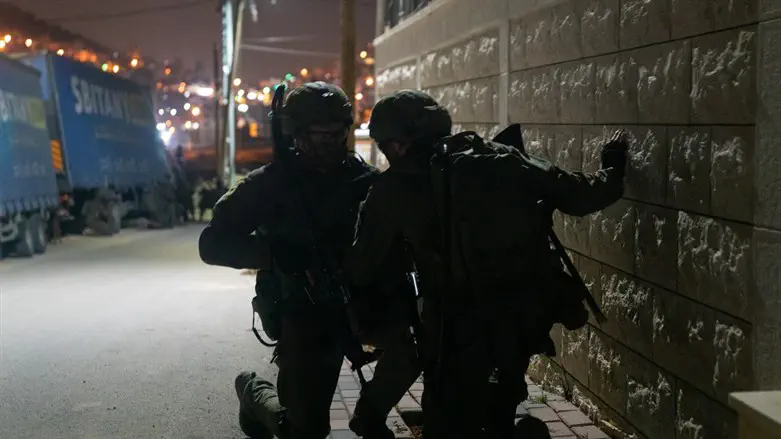 The IDF operation
IDF spokesperson
IDF and Border Police forces operating in Samaria overnight eliminated three terrorists after a gun battle broke out during an Israeli security sweep.
The Palestinian Authority's health bureau reported early Monday morning that three people were killed in a gun battle with IDF soldiers in the Balata refugee camp in Shechem (Nablus).
According to the reports, four people were injured in the exchange of fire, two of them in serious condition and two in moderate condition.
The reports indicated that IDF soldiers entered the refugee camp during the night, arrested several wanted terrorists, confiscated weapons and neutralized a laboratory for the production of explosive charges.
During the operation, terrorists opened fire on the soldiers. There are no injuries among the Israeli troops.
An IDF spokesperson confirmed that Israeli security personnel operated in Balata overnight, demolishing a bomb factory and confiscating weapons, including three M-16 assault rifles.
"Overnight, following ISA intelligence, the IDF and Israel Border Police conducted counterterrorism activity in the Balata camp," an army spokesperson said.
"The soldiers apprehended three wanted individuals suspected of involvement in terrorist activity and confiscated three M-16 rifles, ammunition, military equipment and weapon parts."
"Furthermore, the forces located in one of the residences an explosives manufacturing site containing dozens of kilograms of explosives designated for carrying out attacks. The manufacturing site was detonated by the forces."
In a separate operation, Israeli forces operating in Jenin arrested three wanted terror suspects.
During the operation, terrorists hurled an explosive device and fired at the soldiers, who responded with live fire. The soldiers also confiscated military equipment. While the forces exited the city, suspects hurled explosive devices at the forces, who responded with live fire.
A hit was identified. Additionally, the forces fired at an armed suspect who was identified in the area. A hit was identified.
The soldiers apprehended seven wanted suspects in the towns of Abu Dis, Al-Eizariya, Bani Naim, Qilqis, Dura and in the 'Ayda and Aqabat Jabr camps.
While the forces exited the town of Abu Dis, suspects hurled explosive devices and rocks at the soldiers, who responded with riot dispersal means. During the activity in the town of Qilqis, a number of grenades were confiscated.
On Sunday evening, an Israeli soldier in his 20s was injured in a terrorist ramming attack in the village of Huwara in Samaria.
Other IDF soldiers present at the time of the attack opened fire on the terrorist, who fled the scene.
Security forces have launched a manhunt for the perpetrator.
Army paramedics were dispatched to the scene to treat the injured soldier, who was later evacuated to Beilinson Hospital in Petah Tikva.