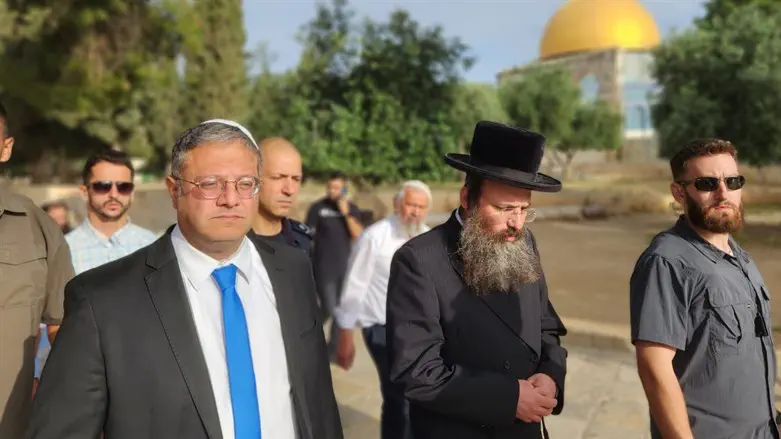 Ben-Gvir at the Temple Mount
Spokesperson
The Hamas terror organization on Sunday published a declaration in response to National Security Minister Itamar Ben-Gvir's visit to the Temple Mount earlier in the day.
"We will not leave Al-Aqsa, and the occupation will bear the responsibility for the barbaric invasion by its ministers and flocks of settlers. The barbaric infiltration by the Zionist National Security Minister, Itamar Ben-Gvir, accompanied by extreme settlers, into the courtyards of the blessed Al-Aqsa Mosque this morning (Sunday); we are worried about the danger that faces the Al-Aqsa under this fascist Zionist government and the arrogance of its ministers' from the extreme right," the organization stated.
"Facing the astonishment by the aggression to our purest lands and our holiest mosques, we affirm that our nation has determination larger and older than the occupation, and our people will not surrender to this aggression, and we will not surrender. Leave Al-Aqsa alone.
Since we see that the criminal occupation is responsible for this barbaric attack, we call on our people in occupied Jerusalem, the West Bank, and on the inside to strengthen the connection with Al-Aqsa to travel to it and to stand as an impenetrable fortress against attempts to defile and Judaize it," the statement concludes.
It should be noted that despite Hamas' repetitive threats amid Jerusalem Day, which was celebrated last week, the terror organization did not do a thing other than threaten Israel in the media.