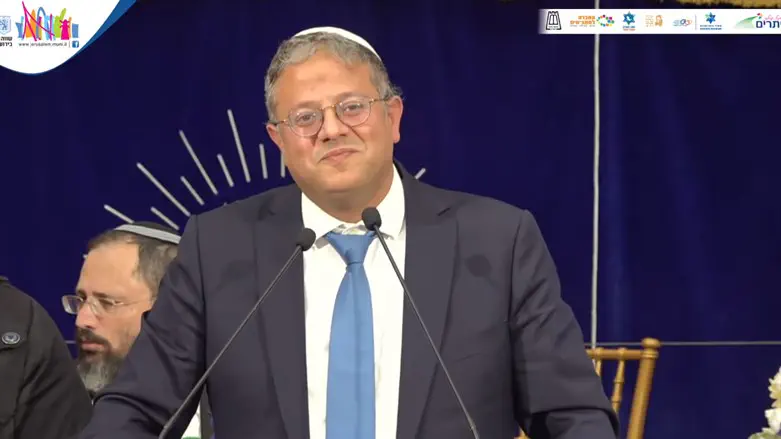 Itamar Ben Gvir
Grovais Productions
National Security Minister Itamar Ben Gvir spoke at the Jerusalem Day celebration which took place at the Mercaz Harav Yeshiva in Jerusalem on Thursday evening.
In his remarks, Ben Gvir responded to Prime Minister Benjamin Netanyahu who, speaking earlier at that same event, called on the members of the coalition, "The time has come to stop threatening, stop boycotting, stop climbing onto your high horse. Everyone should work together to pass the budget for the sake of the unity of Israel, for the Land of Israel and for the Torah of Israel."
In response, Ben Gvir said to applause from the audience, "The Prime Minister, whom I like very much, said something important in his speech, 'don't climb onto your high horse.'"
"Mr. Prime Minister, targeted eliminations [of terrorists] are not climbing onto a high horse, judicial reform is not climbing onto a high horse, settlement in all parts of Judea and Samaria is not climbing onto a high horse, the evacuation of Khan al-Ahmar is not climbing onto a high horse, taking phones from terrorists in the prisons is not climbing onto a high horse," he added.
"We can do this with our power, we have a right-wing government, we must not miss out," said Ben Gvir.
Netanyahu's call comes amid tensions with parties in the coalition, including with the haredi United Torah Judaism Party which threatened to vote against the government in next week's budget votes if its demand for demand for 600 million shekels in additional funding for haredi schools is not met.
Minister of Jerusalem Affairs and Jewish Tradition Meir Porush of UTJ responded to Netanyahu on Thursday night and said, "I want to comment on the things that were said here earlier by the honorable Prime Minister. Indeed, this government is better than many governments that have served here in the past. But, the commitment to the world of the Torah, the tradition of Israel, to Jerusalem, Judea and Samaria, should also be in actions and not just in words."
"If this is indeed the case, we should vote in favor of the budget, maybe the good news will come out of here tonight," Minister Porush added.
There have also been tensions in the coalition with Ben Gvir's Otzma Yehudit Party, which has demanded additional budgets for the Ministry for the Development of the Periphery, the Negev and the Galilee.
On Wednesday, Ben Gvir said in closed meetings to his associates, "We are in a real crisis, and the Prime Minister needs to get into this issue and resolve it. He has a responsibility as Prime Minister. We heard briefings from the Likud today, they talked about elections. If the Likud wants to go to elections instead of giving a budget to the Negev and the Galilee - so be it. We came to the government to take care of the periphery and of personal security."