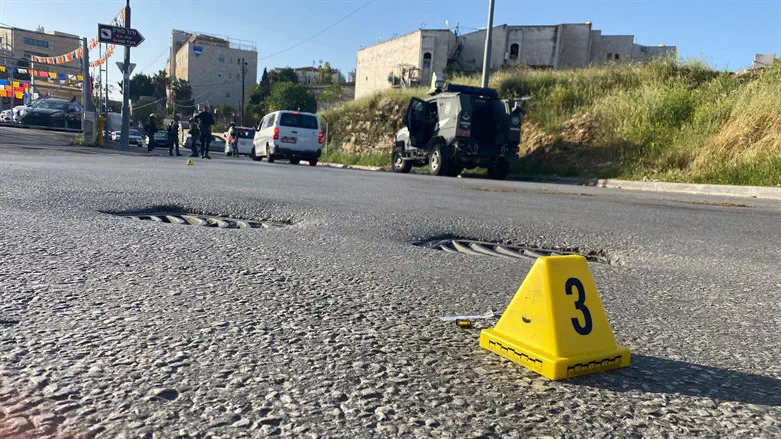 scene of Shimon Hatzaddik attack
police spokesperson
The Jerusalem District Attorney's Office today (Sunday) submitted an indictment in the District Juvenile Court against a 15-year-old terrorist who attempted to murder two Jewish men in the Shimon Hatzaddik neighborhood of Jerusalem last month.
The teenaged terrorist rushed up to a vehicle in which two haredi-looking Jews were sitting and opened fire at point-blank range, moderately injuring them. The shooter was arrested the following day in his home twn of Shechem (Nablus).
According to the indictment, "the defendant, without an entry permit to Israel, decided to carry out a murderous attack against Jews. To this end, he equipped himself with a rifle, arrived near the compound of the tomb of Shimon Hatzaddik, noticed the two plaintiffs, who had a Jewish appearance, and shot at them.
"During the shooting, the rifle jammed. The accused attempted to fix the jam to continue shooting at the plaintiffs, who had escaped from the scene. So the accused ran away from the scene, leaving the rifle on the side of the road. As a result of the defendant's actions and the speed with which he committed them, the complainants were rushed to the hospital and needed medical treatment and surgery to remove the bullets.
The Shechem resident is charged with a terrorist act of attempted murder, carrying and transporting weapons and weapon accessories and being in Israel illegally.