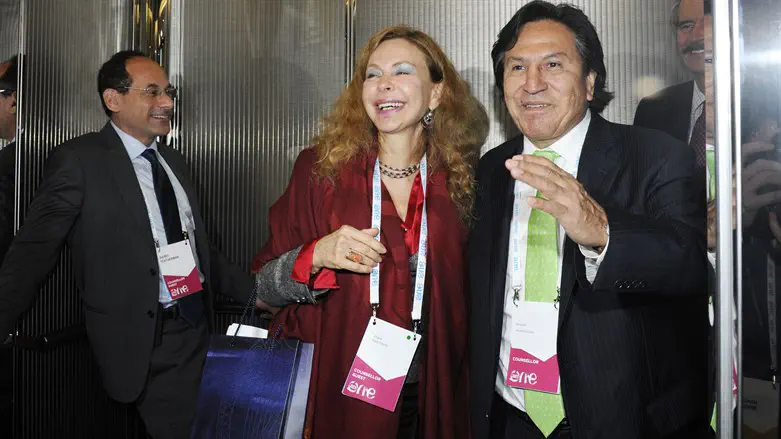 Eliane Karp (L) with husband, former Peruvian Pres. Alejandro Toledo, in Ireland in 2014.
Clodagh Kilcoyne/Getty Images
Eliane Karp, Peru's former Jewish First Lady, has flown from the United States to Israel in an attempt to avoid extradition to Peru in a money laundering case.
Peruvian Prime Minister Alberto Otárola announced the news on Wednesday at a press conference in Lima.
"The United States Department of Justice has informed the Peruvian embassy in the U.S. that Mrs. Eliane Karp has taken a flight to Israel using her Israeli passport," he said.
Peru does not have an extradition treaty with Israel.
Karp was first lady of Peru from 2001 to 2006. Born to Jewish parents in France, she is an anthropologist who met her husband, former Peruvian President Alejandro Toledo, while the two were students at Stanford University. Before getting her PhD from the California university, Karp got her bachelor's degree at the Hebrew University in Jerusalem.
In April, Toledo was extradited from the United States to Lima, where he is now in prison. He is accused of accepting tens of millions of dollars in bribes in exchange for public works contracts. Toledo denies all wrongdoing.
In 2017, Israel denied entry to Toledo due to the accusations against him.
Peruvian authorities also attempted to extradite Karp from the United States for a separate embezzlement case involving Karp, her mother, and her husband.
In 2013, a Peruvian prosecutor discovered that Ecoteva Consulting Group, an offshore company in Costa Rica founded by Toledo, was used to pay the mortgages of expensive real estate for Karp's mother, Eva Fernenburg. Initially, Toledo claimed the money from this company came from reparations paid by Germany to Fernenburg, a Holocaust survivor. Later he said that the money came from Israeli businessman Yossi Maiman.
Prosecutors believe that money used to create Ecoteva came from bribes and are therefore seeking a sentence of 16 years and 8 months for both Toledo and Karp. On April 20, a California judge ordered the return of Karp's passport.
While First Lady, Karp was known for her ability to speak Quechua, one of the indigenous languages of Peru, and for her tendency to explosively call out those who disagreed with her. In 2004, at an event at the Israeli embassy in Lima, Karp began yelling at a Israeli-Peruvian media tycoon (in Hebrew and Spanish) whose TV channel had criticized her. She later apologized to the Israeli ambassador.