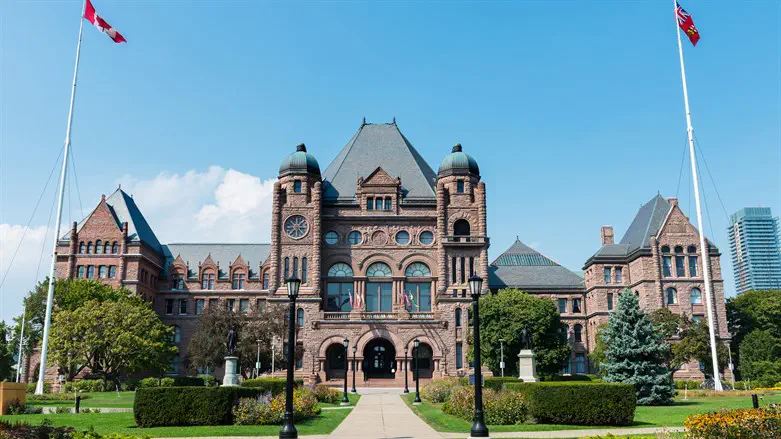 Ontario parliament
iStock
Ontario's main opposition party is facing mounting criticism over its response to the actions of a member of provincial parliament who retweeted a post from an American academic that praised an Islamic Jihad terrorist as a "martyr."
B'nai Brith Canada called upon Ontario New Democratic Party (ONDP) leader Marit Stiles to meet with the advocacy organization, and to demonstrate to the Jewish community that she "will vigorously combat antisemitism."
The demand followed last week's retweet by Hamilton Centre MPP Sarah Jama of a tweet by US academic Noura Erakat concerning the death of Khader Adnan. The tweet, which B'nai Brith described as "unacceptable," praised Adnan, a senior member of the Palestinian Islamic Jihad (PIJ), a designated terrorist organization, as a "martyr."
According to B'nai Brith, "The retweet reignited the sentiment in Ontario's Jewish community that there is an antisemitism problem in the ONDP."
They noted that the "horrified reaction of the Jewish community" led the ONDP to distance itself from the incident, claiming that the retweet did not represent the views of the party or those of Jama.
"That's not good enough," said Marvin Rotrand, B'nai Brith's National Director for the League for Human Rights. "We must meet face-to-face. Such a meeting is long overdue."
B'nai Brith explained that despite repeated requests for a meeting with the Stiles, who became the ONDP leader in February, they have been unable to meet with her, even virtually.
"This latest incident has renewed fears within the Jewish community of Ontario that the ONDP is not taking the issue of antisemitism seriously, either within its ranks or within the broader community," B'nai Brith Canada CEO Michael Mostyn said.
B'nai Brith charged that the community's concerns were amplified by the perception that the ONDP was aware of the "problematic views of Jama" yet did not address the situation under it was force to do so by public pressure.
The advocacy organization pointed out that previous ONDP Leader Andrea Horwath had committed the party to improving its relations with the Jewish community.
In 2022, antisemitic comments made by ONDP MPP Joel Harden resurfaced on social media, sparking a backlash from the Jewish community. Interim ONDP leader Peter Tabuns called those comments "completely unacceptable" and pressured Harden to apologize.
In March, the ONDP was urged by B'nai Brith to withdraw Jama's candidacy over her past as a "radical activist" associated with anti-Israel groups.
B'nai Brith pointed out that Jama, who went on to win her a seat in a March 16 provincial byelection in the riding of Hamilton Centre, is a supporter of the boycott, divestment, sanctions (BDS) movement.
B'nai Brith's League for Human Rights had contacted Stiles over their concern, decrying Jama's candidacy.
"We realize that, with the byelection imminent and slated for March 16, withdrawing Ms. Jama's candidacy would mean that the ONDP would likely lose the seat," Mostyn said at the time. "Nonetheless, Ms. Stiles needs to do the principled thing. There should be no room in the Legislature for a member whose demonizing of the Jewish state will only lead to more hate aimed at Jews in Ontario."
The party did not withdraw the candidacy of Jama, who went on to win the byelection.