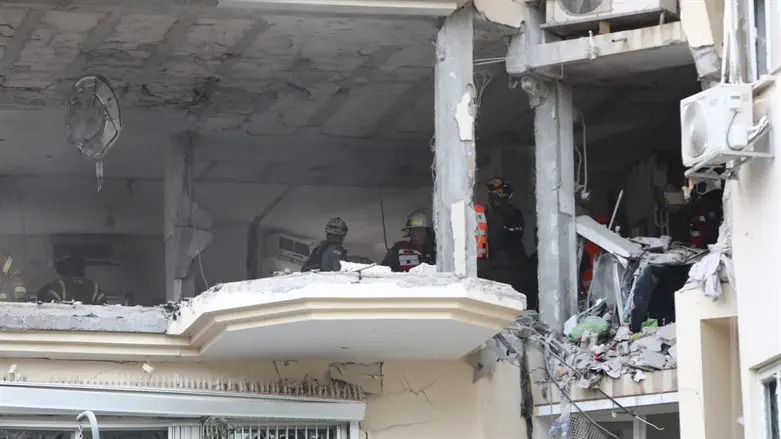 building hit by rocket in Rehovot
Gideon Markowitz'/TPS
The IDF attacked Islamic Jihad positions in the Gaza Strip before dawn Friday, in response to rocket fire towards the south and center of Israel Thursday evening.
It was also reported that during the night, command posts, concealed launchers, military positions, and terrorist cells were among the sites targeted.
An IDF spokesperson said Friday morning that the direct hit on a building in Rehovot, resulting in one fatality, occurred due to a technical malfunction of the Iron Dome missile defense system. While an interceptor missile was fired at the rocket, the missile failed to hit its target.
The rocket that hit the building is intended for ranges of about 70 kilometers (44 miles) and carries approximately 20 kilograms (44 pounds) of explosive material.
As a result of the impact, one woman was killed and 16 people were injured, two of whom are still hospitalized in stable condition at Kaplan Hospital in Rehovot.
"We understand that an interceptor was launched and missed," said IDF spokesperson Daniel Hagari. "It is a homemade rocket and not an advanced rocket. It is a rocket with a range of about 70 kilometers and bearing 20 kilograms of explosive material, which hit at an angle on a building."
During the night, the IDF targeted military positions and launchers of improvised rockets belonging to the Islamic Jihad throughout the Gaza Strip.
Since the beginning of the operation, 215 targets have been attacked in the Strip, 260 rockets have been shot down, 163 unsuccessful launches were identified (about one in every five), and a total of 866 rockets were fired towards Israel.
The Islamic Jihad has not fired any rockets towards Israel in the past few hours.
According to a report by the BBC, the head of the Islamic Jihad delegation in Cairo, Mohammed al-Hindi, received a proposal for a ceasefire from Egyptian intelligence and requested an extension in order to discuss it with the leadership of the Islamic Jihad and the organization's secretary-general.