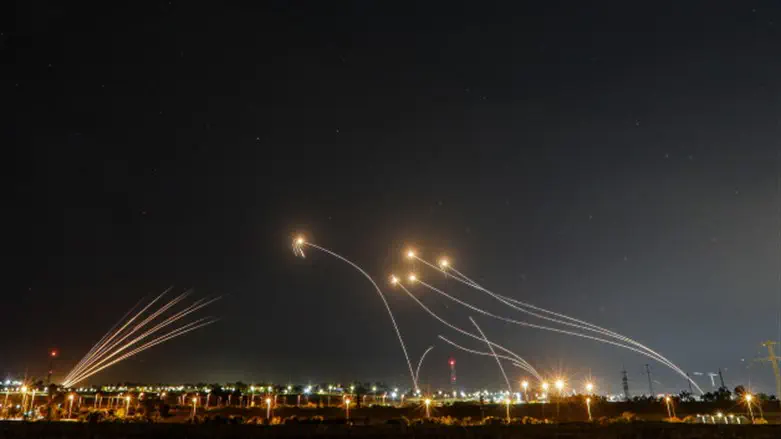 Rocket fire towards Israel
Flash 90
The Ministers of Foreign Affairs of France, Egypt, Germany and Jordan – known as "The Munich Group – met on Thursday in Berlin amid the escalation in Gaza.
In a statement published after the meeting, the ministers urged an immediate ceasefire.
"We are deeply alarmed by this new round of violence and the deteriorating security situation in the occupied Palestinian territories and Israel, and on-going developments in Gaza, which has claimed unacceptable civilian casualties including women and children," the ministers said.
"We urge an immediate comprehensive ceasefire which will end Israeli military operations in Gaza and indiscriminate rocket firing against Israel. International humanitarian law must be respected," they added.
France, Germany and Jordan commended Egyptian efforts to bring about an immediate ceasefire and the ministers said, "The saddening facts serve as a dire reminder that the Israeli-Palestinian conflict needs immediate attention to prevent a major conflagration. A political horizon is required to give people hope, a meaningful perspective and to end the occupation."
"The Ministers emphasized that all causes of tension and triggers of violence must end including unilateral measures undermining the viability of the two-state solution and prospects of a just and lasting peace."
"We strongly commend the efforts undertaken jointly by the Arab Republic of Egypt, the Hashemite Kingdom of Jordan and the United States America to ease tensions and prevent further violence with the aim of creating momentum necessary for resuming a wide political process leading to a just and lasting peace on the basis of the two-state solution. We call on the parties to scrupulously implement their commitments undertaken in Aqaba on February 26th 2023 and reiterated in Sharm El-Sheikh on March 19th 2023," the ministers continued.
The ministers said recent events "illustrate the need to restore a credible political process leading to a comprehensive and lasting peace between Israelis and Palestinians through a negotiated two-state solution, ensuring an independent, contiguous, viable and sovereign Palestinian State, based on June 4, 1967 lines and consistent with relevant UN Security Council resolutions."
"We will continue to work with all parties to create realistic horizons for the resumption of a credible political process. We also stress that the attainment of a just and lasting peace is a strategic objective that is in the interest of all parties and key to security and stability in the region," they concluded.
The statement came as rocket attacks on Israel continued. On Thursday evening, a rocket fired by terrorists from the Gaza Strip struck a residential building in Rehovot.
A 70-year-old man was killed in the rocket strike, and five people were injured. This is the first fatality on the Israeli side since Operation Shield and Arrow began Monday night.
Four of the injured are in moderate condition, while one person is in light condition. The injured were taken to Kaplan Hospital.
Also on Thursday, an 82-year-old woman was lightly wounded by shrapnel from a rocket fired by Gaza terrorists in the Sdot Negev Regional Council.
Magen David Adom paramedics treated the woman and evacuated her to Soroka Hospital in Be'er Sheva.
Later on Thursday evening, Prime Minister Benjamin Netanyahu and Defense Minister Yoav Gallant held an assessment of the situation, at the conclusion of which they ordered that Operation Shield and Arrow continue for as long as is necessary.