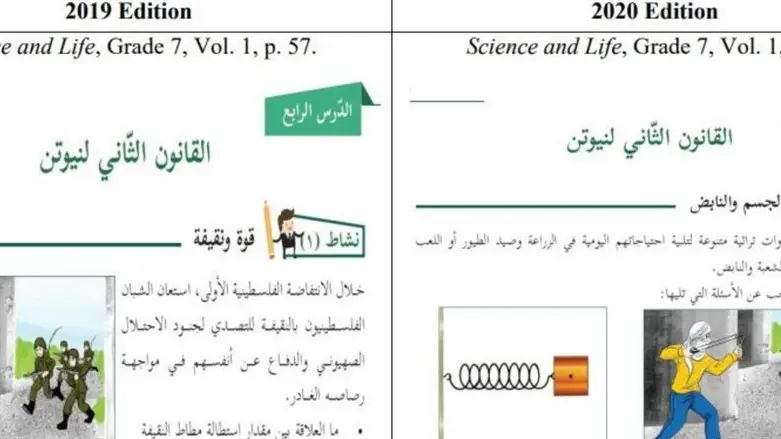 Incitement Palestinian textbooks
IMPACT-se
Amid rocket fire on Israel, the European Parliament passed a decision on Wednesday condemning the Palestinian Authority for the continuous incitement of violence, antisemitism, and hate in its textbooks for the fourth year in a row.
The decision called to freeze funding for the Palestinian Authority until its curriculum matches the international standards of peace and tolerance and the violence is removed. Those charged with writing the textbooks are the clerks at the PA Ministry of Education's content development department, whose salaries are paid by the EU.
The decision was passed as part of the EU's annual budget inspection, which inspects how it spends its taxpayers' money on EU projects.
The condemnation passed, with an overwhelming majority of 451 for, 151 against, and five abstaining, due to support from center-left parties that voted for a wording that was unprecedentedly critical of the Palestinians when compared to past years.

For the first time, the European condemnation directly ties the incitement in the textbooks, which it funds, to the rise in Palestinian terror among students and youth. It recognizes, for the first time, the existence of antisemitism and blatantly demands its removal, while past decisions did not call for its removal and only mentioned the incitement and vaguely demanded that the Palestinian content match UN values.
The decision even emphasizes that the hateful content has not been removed despite claims and promises by the Palestinians to the EU that the textbooks were changed positively and mentions the Parliament's repeated requests on the matter.

The Parliament voted no less than five times during the day against attempts to erase or tone down the wording, following lobbying by the Palestinian delegation to Brussels and other pro-Palestinian organizations.

The EU commissioner in charge of aid funding for the Palestinians, Oliver Varhelyi, announced last week during a meeting with Foreign Minister Eli Cohen that EU funding would not be used for incitement against Israel and promised that the union would fund an additional study on incitement and antisemitism in PA textbooks.
Studies and suggestions by IMPACT-se, which studies and dissects textbooks from around the world to encourage content that promotes peace and tolerance, served as the basis for the condemnation.

IMPACT-se CEO Marcus Sheff stated: "It's an embarrassment for the Palestinians who worked hard against the decision in Brussels. This is an indication of the European anger and frustration towards the Palestinian national strategy of inciting students to hate and violence with their taxpayers' money, year after year. It will certainly be considered by the European Commission and by Commissioner Varhelyi, who is trusted with the funding for Palestinians and stated last week that EU funds won't be able to be used anymore for incitement against Israel."