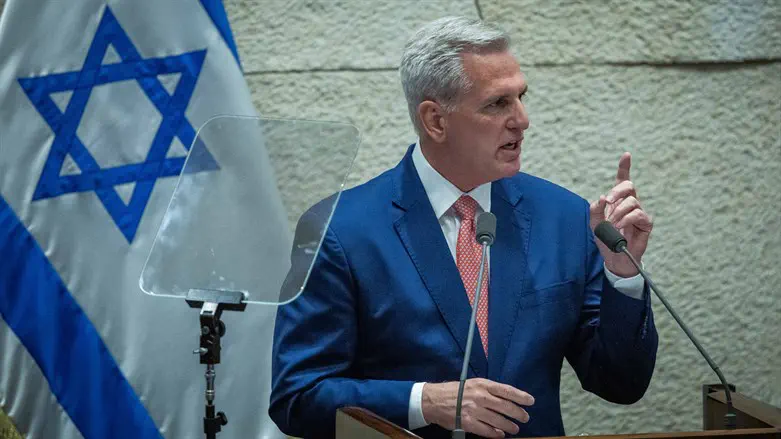 Kevin McCarthy
Yonatan Sindel/Flash90
House Speaker Kevin McCarthy (R-Calif.) blocked plans by Rep. Rashida Tlaib (D-Mich.) to hold an event at the Capitol Building, partnering with anti-Israel organizations. condemning the establishment of the Jewish state as a "catastrophe."
McCarthy tweeted on Tuesday that the "Nakba Day" event - referring to the Arabic term for "disaster" - would not take place, replacing it with a bipartisan gathering marking the 75th anniversary of the US-Israel relationship.
"This event in the US Capitol is canceled. Instead, I will host a bipartisan discussion to honor the 75th anniversary of the US-Israel relationship.
Tlaib, a member of the far-left "Squad," had planned an event called "Nakba 75 & the Palestinian People," featuring nine anti-Israel groups at the Capitol Visitor Center on Wednesday.
McCarthy intervened, securing the venue for himself, thus blocking Tlaib's gathering.
McCarthy condemned the use of anti-Semitic tropes and reaffirmed his unwavering bipartisan support for Israel's right to self-determination and self-defense. One of the event's organizers, the Jewish Voice for Peace, is labeled as a "radical anti-Israel activist group" by the Anti-Defamation League, advocating for a complete boycott of Israel and even honoring convicted terrorists.