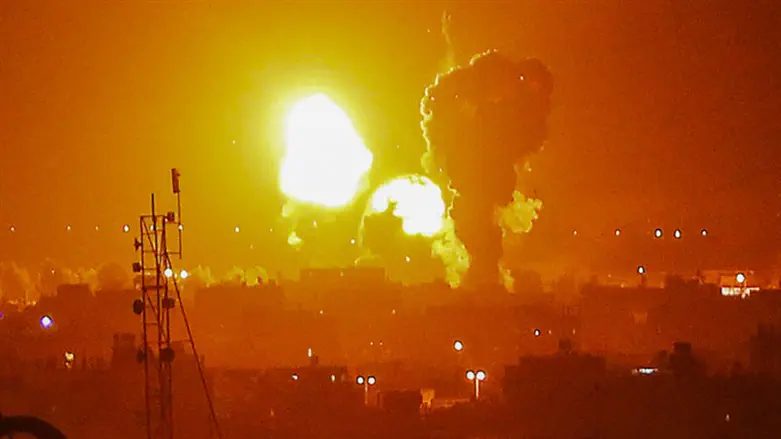 Israeli airstrike in the Gaza Strip, May 3rd, 2023
Abed Rahim Khatib/Flash90
Just a short while ago, we observed Yom Hashoah, Holocaust Memorial Day and Yom HaZikaron, Israel's National Remembrance Day honoring those who lost their lives to war and terror; and last, but not least felt the joy of Israel's Independence Day, Yom Ha'atzmaut. However, we are suddenly in the midst of a military operation in the Gaza Strip, after terror shootings, rocket launchings and thwarted attempts to effect a mass killing of innocent Israeli civilians.
Diaspora Jews must recognize the hard work ahead of us. It's imperative that we fully understand the seemingly never ending shomer (guardian) obligation to ensure Jewish viability in our biblically ordained homeland for the years to come.
Let us never take our turbulent history for granted, as well as keeping in the recesses of our minds the unsettling Passover warning that "In every generation, one will arise to destroy us."
Ever increasing hostile targeting from the usual suspects in the USA ncluding white supremacists; radical Islamists; Palestinian Arab group-based agitators including "Students for Justice in Palestine"; and others of similar ilk remains a fact of life for Jews in 2023 as a perfect storm of hate proceeds to test Jewish resilience and ever increasing danger takes center stage.
Instead of this insanity being met with unified condemnation for its obvious evil, we find it selectively not only tolerated but on occasion abetted by those who see no fault in blaming Jews and those who advocate for us as responsible for today's frustrations.
United States President Joseph Biden, because of his seeming reticence in facing escalating antisemitism and its resultant existential threats, bears some culpability for Israel's current fragile plight.
This includes his incessant wooing of Iran into a similar Obama influenced J.C.P.O.A. nuclear arrangement. President Joe Biden obviously dismisses threats emanating from within Iran of "Death to Israel'' and "Death to America''; while it labels America a "Satan Nation'' and its dangerous proxy, Hamas, boasts a charter that calls for active elimination of Jews.
As if this were not enough, our President and his administration give a distinct impression of favoring the Palestinian Authority and its President Mahmoud Abbas with hundreds of millions of unrestricted U.S. Tax Dollars contributing to both the unconscionable "Pay to Slay'' Palestinian Authority terrorist reward funding; as well as providing additional financial support for UNRWA (United Nations relief Works Agency) for Palestine. UNRWA's offensive education substructure is still indoctrinating generations of Palestinian Arab children with antisemitism-based hatred and violence targeting Jews for murder; all the while glorifying terrorism and martyrdom to achieve sinister existential threats; not limited to within Israel's borders.
As a result, "Pay to Slay '' appears to pursue Jews and other civilians living within Israel's borders, including visiting Americans who can easily become fodder for murder by bullets, knives, rockets and car rammings. This dimension of radical terrorism is particularly obnoxious. Proxy perpetrators may also be working at extending their range to large cities within America; including N.Y.C. and its boroughs; L.A., and others; as well as large cities in the U.K., and Canada; inspiring fear without borders.
President Biden's administration made the point with former President Trump, that no one is above the law. Yet Biden does not fully utilize the "Taylor Force Act;" the intent of which is to deny funding to any organization that funds/rewards terror, directly or indirectly. As such, presidential reticence may have inadvertently provided a green light that escalated self-serving history revision and resultant recent violence, including targeted murder, of innocent Israelis of all ages, genders and health limitations; thereby setting a destabilization of security for Jews, worldwide.
I understood that Biden's inherent oath of position obliged him to protect American citizens and extend such safeguards to trusted Middle East allies; keeping both from knowingly falling victim to terrorism, anytime and anywhere it raises its ugly head.
America, the E.U. and other nations in leadership come across sheepishly standing by, while Israel takes the lead in fighting terror. We know that should the stakes ever be reversed; Israel would intervene on their behalf. Those nations have in the past served as beacons to be emulated; not so much now.
Ultimately, no good will ever come from any nation, particularly the U.S. abandoning Israel or Jews to the forces of evil currently encompassing them. This is clear in light of Joe Biden's perceived 08/2021 abandonment of Afghanistan. Dysfunctional psychology can too easily lead to backlashes at voting polls.
President Biden must cease attempts to woo Iran; a nation that has yet to prove itself to be anything other than a danger to America and our constitutional way of life. Lest we forget; March 22, 2021: "Iran (purportedly) threatens Washington, D.C. military base, and its base commander;" as well as September 14, 2022, (purported) "Three Iranian Nationals Charged With Engaging In Computer Intrusions And Ransomware-Style Extortion Against U.S. Critical Infrastructure Providers."
All of this, while it comes to light that Iran may have purified nuclear weapon component concentration to the 83% level. If accurate, it is only a short hop; skip; or jump to weapons of mass destruction grade capability that will ultimately prove dangerous to both Israel and America. Iran already possesses sophisticated missile technology capable of delivering payloads internationally with enhanced accuracy provided by satellite observation capability.
Lastly, in the face of escalating anti-Semitism it's time to codify the International Holocaust definition of antisemitism while simultaneously amending Title VI of the Landmark 1964 Civil Rights Act to add acts of religious discrimination to the current list of proscribed discrimination as an appropriate starting point for taking on today's antisemitism.
Respectability may return to American politics and America itself may again become the nation that sets the bar of conduct for other nations to emulate.
Jews must recognize the hard work ahead
Bruce Portnoy is the author of the Geo-political thriller novel, First the 'Saturday People', and then the…; and a contributor to Israel National News/ Arutz Sheva; Jerusalem Post and other respected media services