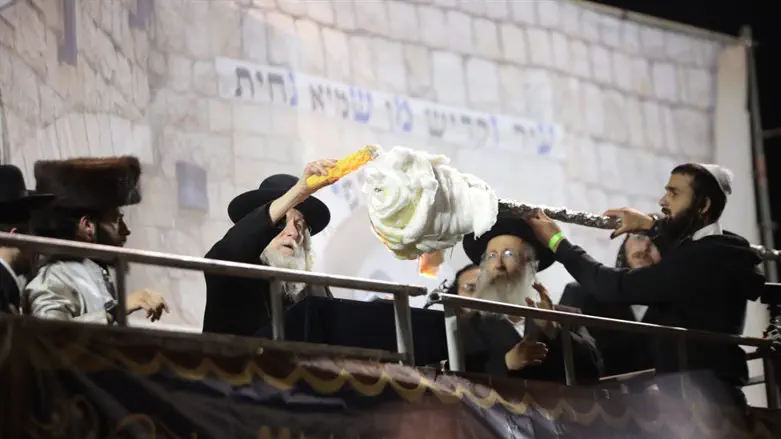 Eliezer Berland lighting the bonfire torch in Meron
Itamar Carmon
Prohibited by law from actually lighting a Lag b'Omer bonfire in Meron due to his past criminal convictions, Eliezer Berland, the head of the Shuvu Banim cult, circumvented the law by lighting a torch and then passing it to one of his followers who use it to light the bonfire in Meron early this morning.
Only yesterday, government minister Amichai Eliyahu asserted that, "If Eliezer Berland lights a bonfire in Meron, it will be a shameful event like nothing else."
The Ministry of Jerusalem Affairs and Heritage issued a statement saying that if Berland himself lit the bonfire, his community would be fined and their right to light a bonfire in Meron would be cancelled for the coming years.
However, there was apparently no way of preventing Berland from acting as he did, in the presence of hundreds of his followers.
Berland has served prison sentences for serious immorality offenses, tax evasion, and fraud, and has also been the subject of a Channel 13 expose which revealed how he swindled Nurit Ben Moshe, the mother of a woman ensnared in Shuvu Banim, out of thousands of shekels by promising that her daughter "would live to 100" when she was seriously ill with cancer. Ben Moshe's daughter, a young wife and mother, followed Berland's "treatment" protocol of eating only orange-colored foods and later passed away, but not before denouncing Berland and bitterly lamenting having been taken in by him.
Despite the numerous documented cases of fraudulent behavior and Berland's own admissions of having behaved in flagrant violation of the Torah's morality laws, his popularity among the cult persists. One cult member recently authored a book describing how "a tzaddik [righteous man] may violate the Torah's laws," an idea that is plain heresy.