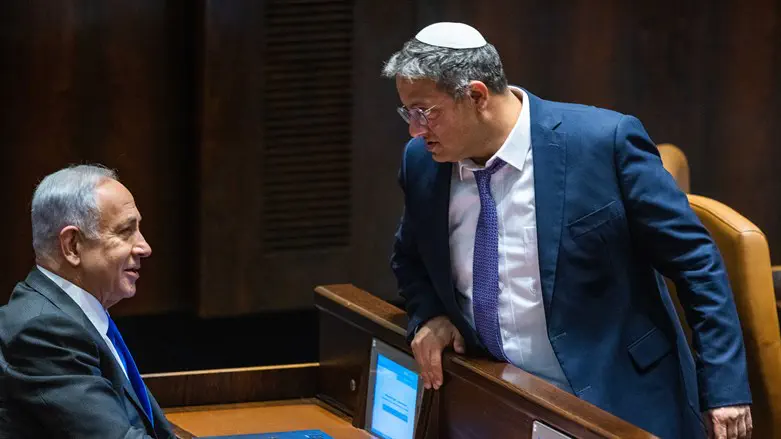 Netanyahu and Ben-Gvir
צילום: אוליביה פיטוסי, פלאש 90
The rift between Prime Minister Benjamin Netanyahu and National Security Minister Itamar Ben-Gvir (Otzma Yehudit) has deepened, according to a report by Ma'ariv Monday morning, prompting the prime minister to attempt a rapprochement.
"It is difficult to assess where this is heading," officials cited by the report said. "There is currently a rift between the prime minister and Ben-Gvir. We hope they will meet or at least talk before the Knesset plenum convenes on Wednesday, and find a way to end this."
The sources emphasized that Ben-Gvir "has no interest in breaking up the government, but he also has no interest in remaining in a government that is right-wing in name only. Ben-Gvir has a list of more than demands, all election promises, not only those made by Otzma Yehudit, but also by the Likud and the entire Right. They should fulfill 2-3 things out of everything promised to the public."
On Sunday night it was reported that Ben-Gvir had handed a list of demands to Prime Minister Netanyahu, warning that without their implementation, his party would continue to boycott votes in the Knesset.
The National Security Minister demands, among other things, to be present at all security discussions and situation assessments with senior security officials, that Israel launch a military operation in Judea and Samaria to collect illegal weapons, to pass parts of the judicial reform, and to toughen the conditions of security prisoners.
According to a report by Kan, Netanyahu made overtures to the Otzma Yehudit party chairman recently, sending representatives on his behalf, but was rebuffed, with Ben-Gvir demanding "changes on the ground." Netanyahu, for the time being, is not willing to allow Ben-Gvir to participate in sensitive security hearings in any way.