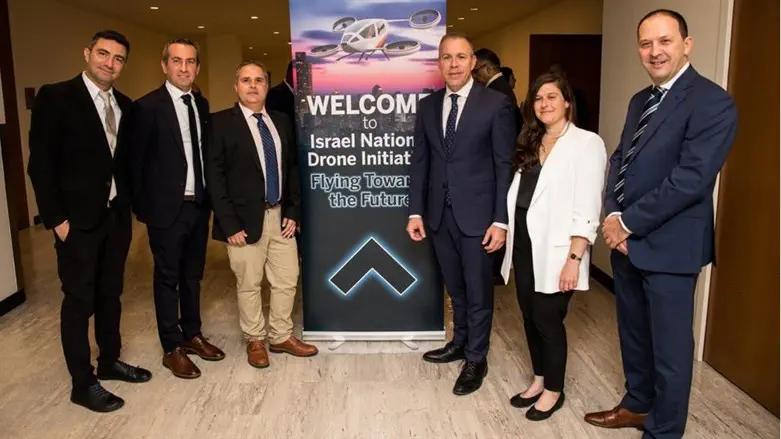 Israel's UN mission presents air delivery drones
Ohad Kab
The Permanent Mission of Israel to the United Nations, led by Israel's Ambassador to the UN Gilad Erdan, in cooperation with Israel's National Drone Initiative, held an event at the UN headquarters on drone technologies.
The event was held as part of the UN's Science, Technology, and Innovation Forum and was attended by ambassadors from around the world and senior executives from the private sector. During the event, Israeli drone companies presented the "sky of tomorrow," an airspace networked with drones, and discussed the challenges that the use of drones will help solve.
Ambassador Erdan, Oren Calfon, the Vice President of the Technology & Innovation Division at Ayalon Highways, Shlomi Kofman, the Vice President & Head of International Collaborations at the Israel Innovation Authority, and Daniella Partem, Head of C4IR Israel (WEF) at the Israel Innovation Authority, delivered remarks at the event.
Ambassador Erdan said, "At a time when Iranian drones are being used to murder innocent Ukrainian citizens, Israel is investing in drone technology and their use so that they can save and improve lives. The purpose of today's event is to share knowledge from Israeli technologies to change the world and make it a better place."
Calfon said, "The Ayalon Highways Company, in partnership with the Ministry of Transportation, the Civil Aviation Authority and the Innovation Authority, is promoting the national drone initiative as part of the multitude of innovative, applicable and smart transportation solutions to reduce road congestion. The initiative demonstrates impressive and ground-breaking technological capabilities in the field of airspace management in an urban environment and flying heavy weights over long distances."
Kofman noted, "Israel continues to be a world leader in drone technology. We are honored to be able to present a successful concept and innovative technologies that demonstrate Israel's technological leadership. The Israeli National Drone Initiative is a testament to Israel capabilities in leading, developing and innovating. Israel Innovation Authority will continue supporting the development of such disruptive technologies for the benefit of the Israeli economy and to ensure Israel maintains its leadership position as a global hub of innovation."
Partem stated, "Israel serves as a model of a country that develops regulations and technologies to enable the management and control of the operation of multiple drones for various needs such as security, safety, health, commerce and more. We are proud to showcase Israeli cutting-edge technology's capabilities to cross our geographic borders and create real economic and social value both in Israel and worldwide."