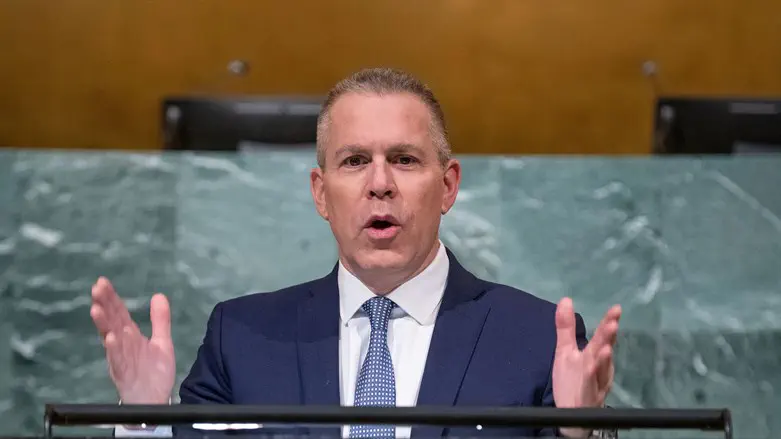 Ambassador Gilad Erdan at the UN
Arie Leib Abrams/Flash 90
The Permanent Mission of Israel to the United Nations, led by Israel's Ambassador to the UN Gilad Erdan, and in cooperation with Israel's National Drone Initiative led by the Ministry of Transport and Road Safety, Israel's Innovation Authority, Ayalon Highways, and the Civil Aviation Authority, will hold a unique event at the UN headquarters on Wednesday on drone technologies.
The event will take place within the Science, Technology, and Innovation Forum of the UN's Economic and Social Council. Ambassadors from around the world and senior executives from the private sector are expected to be in attendance.
At the event, Israeli drone companies will present the "sky of tomorrow" - an airspace with a drone network - and discuss the main international challenges that they will help solve.
Ambassador Erdan will speak at the event. There will also be a panel of experts and Israeli technology companies that manufacture and operate drones and develop technologies for managing air traffic.
Ambassador Erdan said, "At a time when Iran is sending drones to kill innocent civilians in Ukraine, the State of Israel promotes the use of drones for national and public needs - to distribute medicine, to transport goods and food for urgent supply needs, and even to fly passengers. Israel is a powerhouse of technology and innovation and we are happy to share our knowledge with the world."