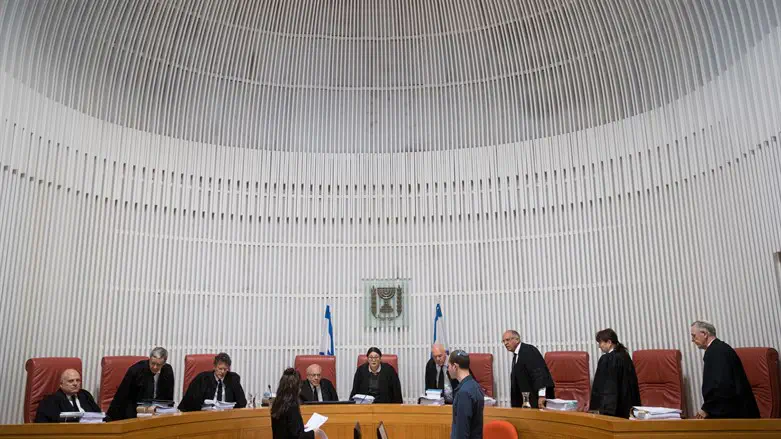 Supreme Court
Flash 90
There are many reasons for effecting judicial reform in Israel, not the least of them the way Supreme Court judges are chosen and the absolute power held by the unelected legal advisor to the Prime Minister (who also functions as the attorney general) and the legal advisors to the government ministries. Add the absence of a demand for standing, the fact that everything, including religious, military and economic decisions can be (and are) adjudicated in the courts, the fact that a justice's opinion of the "reasonableness" of an issue allows him to strike it down and that all of the above are particular to Israel.
However, there is a more basic reason change is needed, a factor that the current liberal makeup of the courts does not deem worthy of taking into account. And as long as new justices are chosen by the current ones, in a process that seems almost like cloning, that will not change:
Israel's justices must first and foremost take into account that Israel is a Jewish state.
They must take into account that Israel has been battling since its establishment against barbaric and cruel enemies.
They must realize how many families have offspring in the army and what kind of split second decisions young soldiers in danger have to make.
They must see to it that Israel is a place where procedures and regulations that can save Jewish lives, both of soldiers and civilians, are in a special category.
Israel should be a place where those who lift a hand against its Jewish citizens because they are Jewish know they will be punished swiftly and severely.
Israel should be a place where the right of each Jewish citizen to live according to halakha if he so wishes is sacrosanct.
Israel should be a place where every effort is made to find legal ways to uphold settling the land of our fathers, including Judea and Samaria, since this is government policy.
Israel's being defined in the Declaration of Independence as a Jewish state means it should be a country where the basic symbols of Judaism are upheld in public spaces and that the feelings of the observant and their ability to participate in events are taken into account as much as possible – meaning kosher food in the army, El Al and the Knesset, no chametz in the army, Knesset and hospitals on Pesach, stores closed on Shabbat, no public transportation on Shabbat and Jewish holidays, hesder army service that is compatible with observant Judaism.
It is tragic that today's Supreme Court does not attempt to meet the challenge of what the unique legal character of the first Jewish state in 2000 years should be.The courts should be carefully developing a unique and just legal system with an attitude to security that protects Jews and respects Jewish values. Instead, unfortunately, extremist liberal progressive opinions of judges are repeatedly forced upon the Zionist and tradition-oriented majority of Israeli citizens. The majority of the justices on Israel's Supreme Court do not relate to the above statements at all, while retired Supreme Court Chief Justice Aharon Barak molded the system to suit his liberal way of thinking.
The best way to understand the issue is to see the court's record. Dr. Assaf Malach, former head of the Education Ministry's Civics Committee, selected 50 Supreme Court decisions that were based on justices' interpretations and opinions, rather than the law. These court decisions illustrate the lack of interest in how a Jewish state established after 2000 years of exile is expected to dispense justice. They are translated below:
Security and terror
The Supreme Court:
1. Set severe limitations on targeted killing of terrorist leaders (2006)
2. Prohibited use of a method saving lives of IDF soldiers known as the "neighbor rule" – i.e. when there is a strong possibility that an armed wanted terrorist lurks behind a door that must be opened, soldiers would have a Palestinian Arab stand in front of them and let the terrorist inside the room know about it so he would not shoot- (2005)
3. Minimized permitted areas to be demolished in terrorist homes and delayed decisions for long periods, making them less effective –( 2016, 2018, 2020, 2020 etc).
4. Heard suits brought by terrorists who are citizens of enemy states-(Dirani, 2011)
5. Limited IDF activity while fighting was taking place and set guidelines for IDF officers – (Church of the Nativity 2002, Rafiah 2004}
6. Cancelled the Interior Minister's decision to void residence permits for Palestinian Parliament members who are Hamas delegates –(2017)
7. Ordered granting National Insurance payments to terrorists whose citizenship was cancelled –(2022)
8. Refused to allow Israel to keep bodies of killed terrorists as bargaining points for the return of IDF soldier's bodies (2017 – rescinded 2019!)
9. Struck down the law denying monthly child benefits for a terrorist who is a minor – (2021)
10. Interfered in IDF security considerations for marking the location of the separation fence - (2004)
Immigration
The Supreme Court:
11. Blocked the government policy for protecting elderly residents of south Tel Aviv terrorized by lawless illegal employment-seeking infiltrators from African countries who moved into the neighborhood en masse - by invalidating three different laws meant to prevent illegal infiltration-(2013 2014, 2015).
12. Blocked the government plan for relocating infiltrators to another African country –(2017)
13. Invalidated the "collateral law" meant to encourage infiltrators return to their native country – (2020)
14. Invalidated the Interior minister's decision to limit the number of non-Jewish Ukrainian refugees allowed into Israel –(2022)
15. Determined the status of female infiltrators as refugees based on a hypothetical possibility that they might undergo circumcision in their country of birth – (2020)
16. Eased the process for residency permits in Israel for Gazan Palestinian Arabs- (2017).
Zionism:
The Supreme Court:
17. Interpreted the Nation State Law, the Basic Law defining Israel as the nation-state of the Jewish People, so that it cannot have any effect on national policy –(2021)
18. Forced the Education Ministry to award the Israel Prize to a BDS supporter despite the ministry's decision not to do so – (2022)
19. Struck down the Interior Minister's decision to prevent entry to Israel of a BDS activist –(2018)
20. Struck down the Film Critics Council decision to forbid the screening of "Jenin Jenin" – a mendacious slanderous film that accused IDF soldiers of a massacre in Jenin, when the truth was that 11 IDF soldiers paid with their lives for the decision not to bomb the city (after warning its residents to leave), thus exposing them to snipers in house to house fighting.
21. Struck down the Knesset Elections Committee decision to prohibit those who openly support terror from running for Knesset – (Zakhalka 2002, Yazbak 2020)
22. Struck down the Defense Minister's decision to forbid terrorist families from Judea and Samaria to attend a ceremony organized by the left for bereaved Jewish and Arab families whose sons were terrorists -(2018, 2023)
23. Ordered signs in Arabic in areas without Arab residents –(2002)
24. Struck down suits brought to the court against illegal building of mosques on the Temple Mount (Solomon's Stables 2004, Mercy Gate, 2020)
25. Struck down suits brought to request partial or full freedom of worship for Jews on the Temple Mount - (2006 2021)
26. Nullified the effectiveness of the law against boycotts of firms/businesses by BDS organizations by adding that fines can only be applied if damage to the business can be proven – an almost impossible demand due to all the factors involved in business gains and losses –(2015)
Land and settlement
The Supreme Court:
27. Cancelled the long-existing policy allowing the establishment of villages that accept only Jews –(Katsir vs. Kaen 2000)
28. Struck down the "Regulating Law" intended to regulate the status of homes built in Judea and Samaria on land whose ownership was contested after the homes were built, by paying claimants for it. Jewish homes were destroyed even though there was no way Arabs could use the land they claimed title to as it was located in the middle of existing communities and it was to the claimant's advantage to be paid for it- (Ofra 2014, Netiv Haavot 2016).
29. Discriminated against Israelis in outposts by ordering them destroyed without proofs of Arab claimants' ownership - (Amona 2006, 2016, Migron 2011).
30. Expelled Jewish residents of Beit Ezra in Hevron against the wishes of the owners and the opinion of the Appeals Committee – (2012)
31. Upheld the status of the illegal settlements of Negev Bedouin – (Adalah 1997, Abu Efash 2000, Abu Mis'ad 2006' Adala 2016)
32. Upheld the racist PA law against selling land to Jews in Judea and Samaria (punishable by death) – (2022)
The Economy
The Supreme Court:
33. Blocked the government plan for solving the housing crisis
34. Interfered in interpretations of contracts in contradicton to the wording of those contracts –(Apropim 1995)
35. Interfered in the government's plan for developing the offshore gas fields damaging Israel's credibility in financial agreements. (2016)
Religion, state and family
The Supreme Court
36. Forbade hospital administrators to keep chametz out of hospitals on Pesach – (2022, rescinded in 2023).
37. Allowed and upheld opening businesses on Shabbat in Tel Aviv –(2017).
38. Forced a husband divorcing an unfaithful wife to share property that was proved to be his alone with the unfaithful spouse –(2021).
39. Forced changing the law so that same sex partners can arrange surrogate pregnancies in Israel –(2020)
40. Encouraged fining Channel 20 (now Channel 14) for not featuring members of the Reform Movement (not officially recognized in Israel) in broadcasts – (2017).
41. Accepted the suit to allow pornographic broadcasts – (2004).
42. Prevented the haredi sector from having cultural events with separate seating for men and women although that is their halakhic position – (2019)
Political skewing
The Supreme Court:
43. Struck down the Knesset's Arutz Sheva Law that allowed the broadcasts of the only right wing radio station at the time –(2002).
44. Interfered with MK Yuri Edelstein (Likud) serving as Knesset Speaker although this is against the Knesset's bylaws –(2020).
Interim governments – inconsistency in rulings
The Supreme Court:
45. Prevented the Internal Security Minister from evacuating the Orient House during an interim government –(1999)
46. Struck down the suit against holding Taba negotiations during the period of a small interim government-(2001))
47. Struck down the suits against concluding an agreement on maritime borders with Lebanon during an interim government – the agreements were not brought to the Knesset - (2022)
48. Created a doctrine to allow striking down Basic Laws -
49. Prevented Michael Ben-Ari from running for the Knesset while permitting the anti-Zionist Kasif and Balad Arab parties to run in contradiction to the decision of the Elections Committee –(2019)
50. Backed the Supreme Court Chief Justice's decision to boycott the national ceremony celebrating 50 years of settlement in Judea and Samaria – (2017)
Dr. Assaf Malach is a scholar of nationalism and political philosophy. He is the founding director of the Jewish Statesmanship Center in Jerusalem and was the head of its Ethics and International Relations Program. In addition, he served as the director of the Committee for Citizenship Studies in Israel's Ministry of Education 1915-2022.
Rochel Sylvetsky made aliya in 1971,headed the mathematics department at Ulpenat Horev in Jerusalem, served as Chairperson of Emunah Israel and was CEO of Kfar Hassidim Youth Village before becoming managing editor of the Arutz Sheva English site. Today, she is Arutz Sheva's Senior Consultant and Op-ed and Judaism editor and serves on the Boards of Orot Yisrael College and the Knesset Channel.