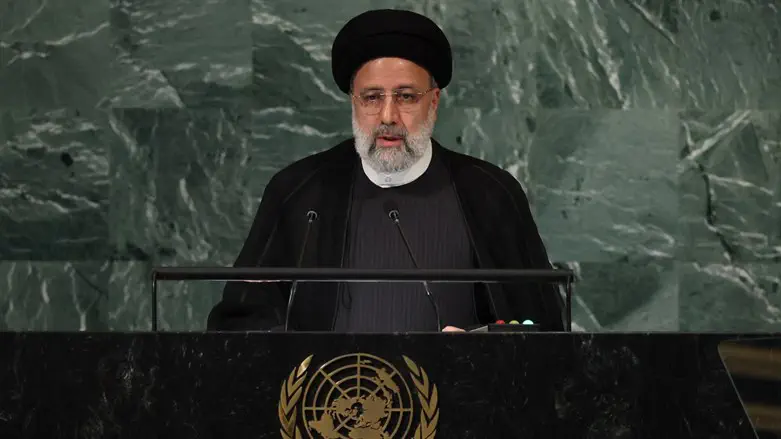 Iran's President Ebrahim Raisi addresses the 77th Session of the United Nations
REUTERS/Brendan Mcdermid
Iran's President Ebrahim Raisi will travel to Damascus on Wednesday, AFP reported on Sunday, citing Iranian state media.
"Dr. Raisi's trip to Damascus next Wednesday is a very important trip due to the changes and developments that are taking place in the region," IRNA state news agency quoted Iran's ambassador to Syria, Hossein Akbari, as saying.
According to IRNA, Raisi will lead a "high economic-political delegation" in his two-day trip at the official invitation of Syrian President Bashar al-Assad.
While Iranian leaders deny that the Islamic Republic has a military presence in Syria, Iran is a key supporter of the Assad regime in Syria, having providing the regime with both financial aid and military advisers against a range of opposing forces since the start of the Syrian civil war in 2011.
Near the start of the Syrian civil war, it was reported that then-Iranian President Mahmoud Ahmadinejad had personally sanctioned the dispatch of officers from the Iranian Revolutionary Guards to Syria to fight alongside Assad's troops.
Ali Akbar Velayati, a top aide to Iranian Supreme Leader Ayatollah Ali Khamenei, made clear several years ago that Iran would withdraw its "military advisers" from Syria and Iraq only if their governments wanted it to.
Last month, Raisi and Assad held a phone call in which they discussed regional security issues as well as bilateral relations.
Raisi's visit to Syria comes weeks after a landmark rapprochement agreement between Iran and Saudi Arabia, which has also underlined greater Arab willingness to re-engage with the once isolated Syrian government.