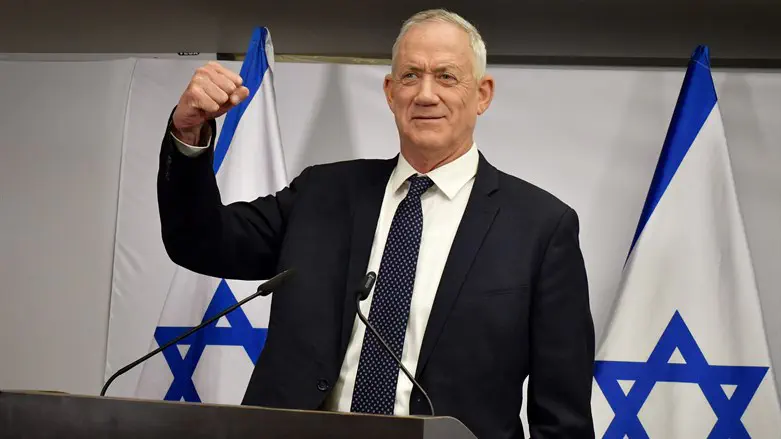 Benny Gantz
Avshalom Sassoni/Flash90
The left-wing – Arab bloc continues to rise while the right-wing – religious bloc falters, a new poll released Friday shows.
According to the poll, which was conducted by Panels Politics and published by Ma'ariv Friday morning, if new elections were held today, former Defense Minister Benny Gantz and his National Unity party would have a clear path to forming a new government – even without the Hadash-Ta'al party.
The poll projects National Unity would become the largest party in the Knesset if new elections were held today, rising from 12 seats in the previous election and 27 in last week's Panels Politics poll to 28 mandates.
The Likud, by contrast, continues to lose ground, falling from 32 seats in the last election and 26 seats in the previous poll down to 23 in Friday's survey.
As a whole, the current Coalition government would receive just 50 seats, down from 64 in the current Knesset and 52 in the previous poll.
The Opposition, by contrast, would rise from 56 seats in the current Knesset to 70 seats, including 64 seats for the six factions which were included in the previous Bennett-Lapid government.
Yesh Atid fell to 17 seats in the poll, while Labor barely crossed the 3.25% electoral threshold with 3.3%. The far-left Meretz party, which failed to cross the threshold in the last election but comfortably passed it in the previous poll with six seats now narrowly clears the threshold with 3.4%.
Yisrael Beytenu holds steady at six seats, while three major Arab factions – United Arab List (Ra'am), Hadash-Ta'al, and Balad – received five, six, and zero seats respectively. Balad failed to cross the threshold in the previous election, and in the previous poll.
Otzma Yehudit continues to slide in the polls, falling from five seats last week to just four, while the Religious Zionist Party rose slightly, from five seats to six.
Shas gained on seat in the poll, rising from nine to ten, while United Torah Judaism held steady at seven.