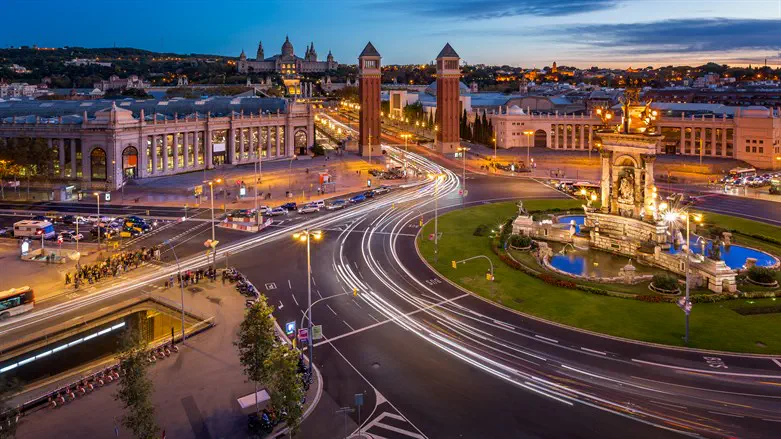 Barcelona
iStock
For the second time in nine days, a synagogue in Barcelona has been vandalized.
Vandals defaced the area in front of the Chabad-Lubavitch Barcelona synagogue with graffiti that read "Why do you kill in Palestine" early on Wednesday, according to a report in JTA.
The incident, which occurred on Israel's Independence Day, prompted outrage from the Federation of Jewish Communities of Spain, the Israelite Community of Barcelona and other Jewish groups.
"This isn't politics. It's a synagogue!" tweeted the account of the Israelite Community of Barcelona, which is not affiliated with Chabad.
The Federation of Jewish Communities of Spain umbrella group condemned Wednesday's act, writing in a statement that "attacking places of worship of Jewish men and women in Barcelona is a clear demonstration of antisemitism."
The incident comes nine days after the Great Synagogue of Barcelona was painted with graffiti reading, "Free Palestine from the river to the sea. Solidarity with the Palestinian people."
That vandalism took place on the eve of Holocaust Remembrance Day. The incident came less than a year after the synagogue was previously vandalized in September, during which its mezuzah was pulled off the front door and graffiti was sprayed all over its main wall.
In February, Barcelona Mayor Ada Colau decided to end her city's twin city designation with Tel Aviv, after a 25-year partnership, claiming Israel is guilty of "apartheid," as well as "flagrant and systematic violation of human rights."
The Spanish government later criticized Colau's decision, calling it a "unilateral move" that would not bring "anything good".
Madrid's mayor, José Luís Martínez-Almeida, has offered to step up as a replacement for Barcelona.