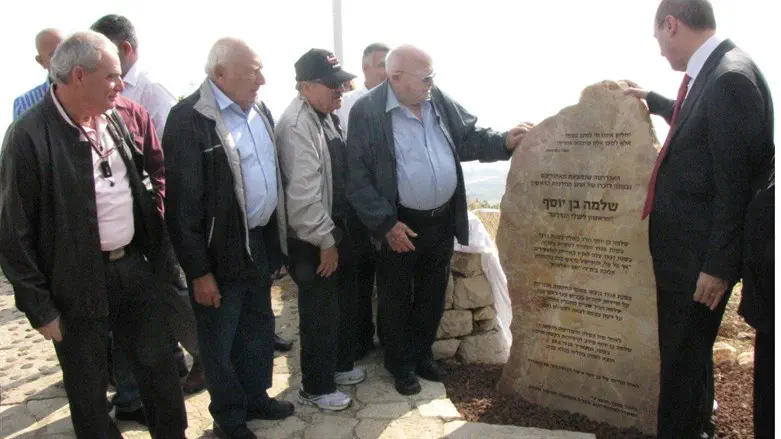 Memorial for Shlomo ben Yosef
Rosh Pina
One of the most enduringly powerful experiences of our Aliyah has been spending Yom ha Zicharon – Israel's Memorial Day – in our little town of Rosh Pina, in the Upper Galileee.
Rosh Pina has a special place in the history of the Jewish return to Zion. Founded in 1882 by Romanian Zionists, it is one of the earliest settlements built by Jews to accommodate the growing desire to settle the Land.
The moshava, as Rosh Pina refers to itself, received some support from Baron de Rothschild, and played an important role in helping to smuggle Jews into mandatory Palestine from southern Lebanon.
Unlike some of the other early yishuvim like Rishon le'Tzion, Petach Tikva and Zichron Yaacov, Rosh Pina stayed small and agricultural. Its beautiful location and small town ambience made it an attractive getaway, and the town is sprinkled with tzimmers, B&Bs and guest houses.
It is a place with a strong sense of self, and nothing is stronger than the dedication to those who made the ultimate sacrifice for the cause of Zionism and the Jewish People.
Every year on the eve of the day, there is an outdoor ceremony in what might be called our town square. After hearing the national siren sounded, our flag is lowered to half-staff, and the list of those who lost their lives is read. Four died during the 1930's and four more died before the War of Independence in 1948. Many more died in that conflict, and there were fallen soldiers from all our conflicts.
There are musical tributes offered by young singers and musicians, as well as by a choral group of seniors. Psalms and poems are read, and of course Hatikvah is sung.
All told it is a half hour long, and there is only reverential silence throughout the program. Amazingly, even children know not to stir.
There was no reference to the current divisions in the country, and certainly no interest in introducing anything topical into the program. It is just a way to honor those who sacrificed for us.
The following morning, we visited the Rosh Pina cemetery, one of the oldest in Israel, to gather at the grave of Shlomo Ben Yosef, who is a fascinating footnote to our pre-State history. Ben Yosef, a recent young oleh from Poland, was reacting to the ongoing Arab riots of 1936, and with a couple of young friends, shot at an Arab bus going from Tzfat to Rosh Pina. While the bus was not hit, and no one was injured, the British arrested the three. Two were underage and were released, but the Brits decided to make an example of Ben Yosef and condemned him to death.
This prompted an international outcry, led by Jabotinsky, the leader of the Revisionists in Palestine. Undaunted, the British hanged Ben Yosef in 1938, thus cementing a tremendous antagonism from those like Jabotinsky, who had previously been sympathetic or neutral to them.
The ceremony is led by the members of Beitar, the youth group that Jabotinsky founded, and which played an important role in grooming future fighters and leaders of the Yishuv and then the nascent State.
What is most powerful is to see the now old men of Beitar, singing Beitar songs, telling the story of Shlomo Ben Yosef, and expressing their love for their country.
Elementary school students read passages, played music and the national head of Beitar reflected on the power of unity and brotherhood in helping to sustain Israel through its many challenges.
Finally, we climb the hill to the military cemetery for a brief but very formal ceremony honoring our fallen soldiers. There are prayers offered, wreaths laid, and a talk by a female MK from the Likud Party. Having political types was something of a debated matter this year, but I was pleased to see that someone from the Knesset was present.
At one point, there was a shout of one word from one of the more than 1000 in attendance that shattered the reverence, but he was quickly silenced. Again, the atmosphere was somber, and highly respectful. There was a multi gun salute of three shots, and afterwards, we gathered at various graves with family members of the fallen.
To walk through the rows of headstones, and to see the overwhelming number of fallen soldiers in their early 20's is one of life's most humbling experiences.
What is perhaps the most powerful aspect of the day, is its constancy, its out of time nature, its very sameness year after year. It has become a ritual, and like many rituals it can transport us into another realm because we are not thinking so much as experiencing. We derive strength, we feel a kinship with those around us, we are all part of something much larger than ourselves.
Above all, we understand that it is because of the sacrifice of these very young men and women that we have been able to enjoy the unique pleasures and frustrations that make for life in Israel.
Our fallen ones connect us to history, a sense of mission and purpose that keeps their memory close at hand and always cherished.
May their memories and their sacrifices be for blessings for each and all of us, we who have stood on their eternal shoulders.
Douglas Altabef is the Chairman of the Board of Im Tirtzu, Israel's largest grassroots Zionist organization, and a Director of B'yadenu and the Israel Independence Fund.