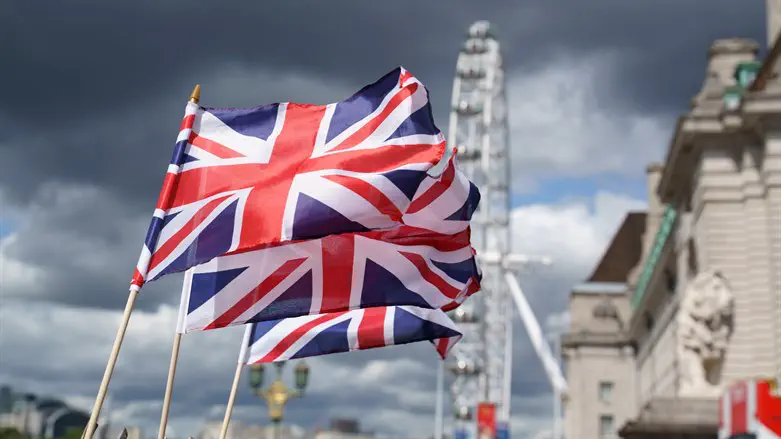 England - Union Jack
iStock
A diversity expert employed in various positions by the British government has resigned after offensive social media posts came to light, including him referring to "Zionazis" in a tweet, according to the Jewish Chronicle.
Maqsood Ghulam Ahmad also allegedly said to a Jewish advocacy group, "May I suggest you occupy New York and declare that as the only Jewish State."
After the string of offensive anti-Israel posts were revealed, Ahmad resigned as director of a National Health Service (NHS) trust.
In the hateful posts, Ahmad called Israelis "Zionazis" and claimed Labour Party politicians were in the pocket of the Israel lobby.
His resignation from the NHS trust came after it released a statement distancing itself from his remarks.
A spokesperson for Pennine Care NHS Foundation Trust told the news outlet: "As soon as we were informed about the comments, we raised them with Maqsood Ahmad and he stepped down from his role on the board with immediate effect."
He had been a board member since December 2021.
Ahmad is also the CEO of The British Muslim Heritage Centre (BMHC), a charity with a stated goal of encouraging interfaith relations between Muslims and other faiths.
He described his Home Office position as being "responsible for developing equality and human rights policies for the police."
Ahmad also reposted an offensive tweet that listed Labour politicians who received donations from a well known supporter of Labour Friends of Israel (LFI) that was captioned "Lammy is bought and paid for by LFI funding" and called him "a committed Zionist as a result."
He said in another tweet that the term "liberal Zionist" was "a bit like saying 'I'm a liberal Nazi,'" according to the news outlet.
In yet another post he described the Abraham Accords as the "US occupation of Middle East via Greater Isreal [sic]..." and also tweeted an illustration of the State of Liberty covered with the Israeli flag next to the caption, "Palestine isn't the only country occupied by Zionism."
Labour Against Antisemitism, which unearthed the messages, told the Chronicle it was shocked that "Mr. Ahmad has been seemingly hiding in plain sight."
"Worryingly it seems none of Mr. Ahmad's colleagues noticed his social media feed. It is also concerning that Mr. Ahmad has the legitimacy of an OBE and has held senior posts within the medical and anti-racism establishment."