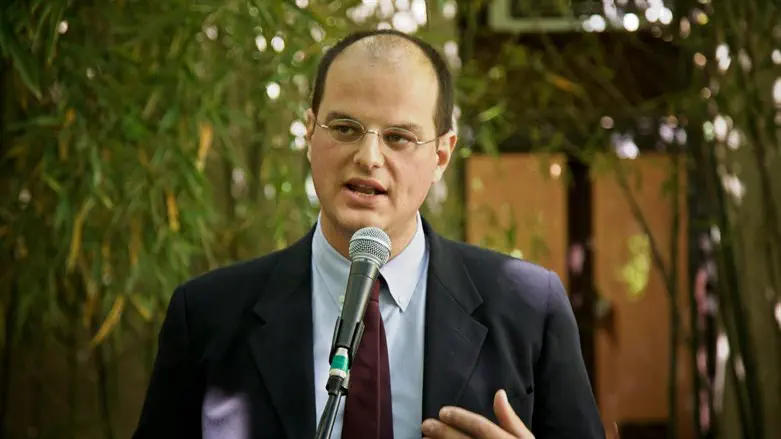 Giulio Meotti
צילום: עצמי
"Rather than leading to meltdown, the migration crisis is leading to the fission of Europe," wrote Stanford historian Niall Ferguson five years ago. "I am increasingly convinced that the migration crisis will be seen by future historians as the fatal ingredient that dissolved the EU".
The EU is still there, but the "fission" has already taken place in the country at the forefront of multiculturalism, open borders and hospitality. Since 1980, according to the Organization for Economic Co-operation and Development, half of all residence permits granted by Sweden - nearly 400,000 - have gone to reunite families from various geopolitical disaster areas. Many of these places were in the Islamic world: Yugoslavia, Somalia, Syria, Iraq and Afghanistan the main ones.
In 2014 then Prime Minister Fredrik Reinfeldt invited fellow Swedish citizens to "open their hearts" to refugees from all over the world: "I ask the Swedish people to be patient and supportive, in the long term we will create a better world in this way". The following year alone, Sweden would welcome 163,000 people. The equivalent of 1.6 percent of the total population.
And so the famous "land of the right of asylum" ended up with suburbs where today only one in ten inhabitants is Swedish and at Lund University academics of Egyptian origin such as Sameh Egyptson publish research on the project of Islamization of Swedish society through demographic and cultural changes.
Now the "most generous nation on earth" acknowledges that it preferred the former world to the "better world" and changes direction. By 180 degrees.
"The 'humanitarian superpower' that former Conservative Foreign Minister Carl Bildt boasted of, welcoming 163,000 refugees in 2015, a record per capita in Europe, is gradually closing its doors after last September's parliamentary elections, which saw a spectacular affirmation of the Democrats of Sweden (SD), an extreme right-wing nationalist party" tells Le Figaro in a chilling report.
"The latter, who has not joined the ruling coalition but enjoys unprecedented influence, is successfully exploiting growing anti-immigration sentiment. The SD, which became the largest right-wing party and second largest in parliament with 20 percent of the vote, after the Social Democrats, contributed significantly to the right's return to power. In particular, the SD has mandated a radical change to Sweden's asylum policy to monetize its support for the centre-right minority coalition (Conservatives, Liberals, Christian Democrats) led by Conservative Ulf Kristersson. The pivot of this 'paradigm shift of asylum', as Maria Malmer Stenergard, Minister of Immigration of the moderate conservative party, defines it, is 'determined to drastically reduce the number of irregular migrants'.
Olof, a local shopkeeper, reads his newspaper in a café in the Triangeln shopping centre. Like many of his compatriots, he believes that there are too many immigrants: 'We Swedes are already a minority in Malmö,' he says. In fact, in this third largest city in the kingdom, with a population of 357,000, 57 percent were born abroad or of foreign parents, and 184 nationalities are represented."
In Malmö the new figures for the age groups 5-9 and 10-14 are more than 68 percent foreigners.
According to data from Statistics Sweden (SBC), 34.62 percent of all inhabitants in Sweden at the beginning of the year have foreign ancestry of up to one generation. They are therefore first or second generation immigrants.
The majority of students in Malmö have a migrant background. The news prompts calls for new educational facilities where migrants can study in their mother tongue, Arabic, because Swedish is now a "minority language". As early as 2010, the Wall Street Journal warned that Sweden would become "Eurabia".
"Jews leave Sweden's third largest city," writes Swedish newspaper Nyheter Idag. Malmö's Jewish community is expected to dissolve by 2029. An American journalist, Andy Ngo, paid a visit: "I stopped by the synagogue in Malmö. I was greeted by a metal security fence and CCTV. The synagogue was attacked with explosives. The closer the GPS told me I was to my destination, the more veils I saw and the less Swedish I heard. In Rinkeby, girls and some little girls wear headscarves. Cafés are basically men-only spaces, and one restaurant in the city center offers separate seating, with a tent for 'families', a euphemism for women."
In Malmö, half of the residents are under 35 and the most popular first name is Mohammed.
And when multiculturalism takes on these dimensions, it becomes impossible for society to not dissolve.
Giulio Meotti is an Italian journalist with Il Foglio and writes a twice-weekly column for Arutz Sheva. He is the author, in English, of the book "A New Shoah", that researched the personal stories of Israel's terror victims, published by Encounter and of "J'Accuse: the Vatican Against Israel" published by Mantua Books, in addition to books in Italian. His writing has appeared in publications, such as the Wall Street Journal, Gatestone, Frontpage and Commentary.