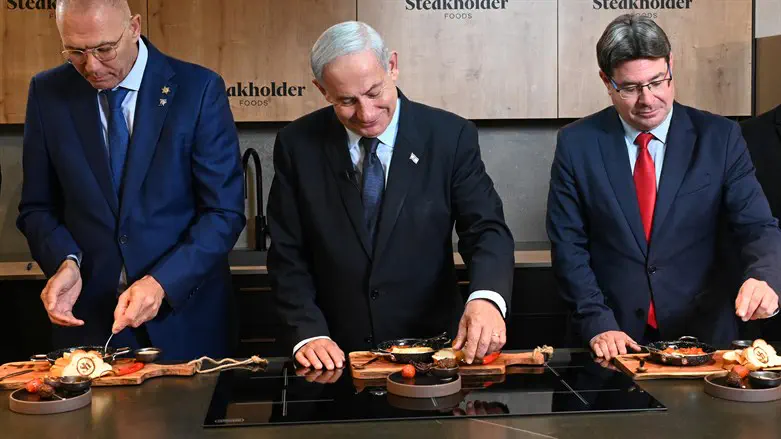 Netanyahu tries 3d-pritned fish
Haim Tzach/GPO
Prime Minister Benjamin Netanyahu visited the Steakholder Foods company this evening (Wednesday) in Rehovot. Steakholder Foods is a startup company that produces cultured, lab-grown meat.
During the visit they printed, for the first time in the world, a cultured fish. Netanyahu tasted the cultured fish and meat and toured the various printers.
As part of the visit, Netanyahu emphasized that the world is in the midst of a revolution in the way humans produce food. "Israel is a world leader in research and entrepreneurship in the field of alternative protein and to make sure that we are also a leader in production, in the coming days the first Israeli company will receive permission to produce alternative milk," he said.
"Today we ate fish produced without fish, meat produced without cows. This is a global revolution. Soon we will bring new approvals and new heights that will change the world," he added.
The Prime Minister was accompanied by Innovation, Science and Technology Minister Ofir Akunis, Prime Minister's Office director Yossi Shelley, Innovation, Science and Technology Ministry Director-General Gad Ariely, Health Ministry Director-General Moshe Bar Siman Tov, and Israel Innovation Authority CEO Dror Bin.