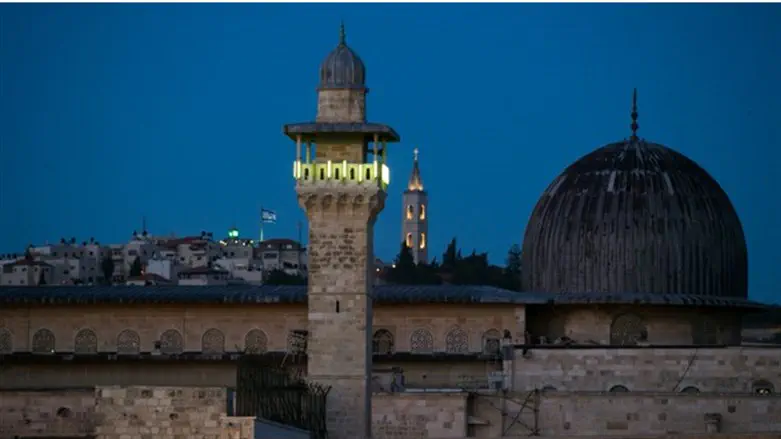 al-Aqsa mosque
Photo: Nati Shohat/Flash 90
Iran's Jerusalem Day, which was held on Friday, was predicated by an online conference held last week (Thursday) attended by the heads of the "resistance axis" and senior figures of the terrorist organizations, two controversial figures, a senior Jerusalem sheikh and an archbishop.
The conference was attended by, among others, Hezbollah Secretary General Hassan Nasrallah, Hamas Political Bureau Chief Ismail Haniyeh, and PFLP Secretary General Talal Naji. However, Sheikh Ekrima Sabri, the preacher of the Al-Aqsa Mosque and one of the leading inciters in Israel, also took part in the conference.
Only recently, during a visit to the family of the terrorist from Shuafat who murdered the IDF soldier, Noa Lazar, Sabri claimed that "if they knew what the merit of the martyr was, they would all go out to carry out jihad."
Another figure who incites from the heart of Jerusalem and participates in the terrorism and incitement conference is Archbishop Atallah Hanna, one of the leaders of the Greek Christian community in Israel. He is considered a pro-Palestinian figure who frequently supports the front for terrorism and incitement against Israel.
Hezbollah Secretary-General Hassan Nasrallah spoke ahead of Iran's Jerusalem Day, saying: "This year there were many important developments that positively serve the long struggle of the resistance axis against the Zionist project. We are following Israel's deep internal crises, and they clearly express its existential anxiety."
"The escalation of the Palestinian resistance in the West Bank and Jerusalem is one of the most important deciding factors in this struggle, as well as the confusion of the Zionists. The capabilities of the resistance have increased in the Gaza Strip, and the West Bank today is the defender of Jerusalem - this uprising will continue," Nasrallah added.
Ismail Haniyeh, head of Hamas' political bureau: "We saw the activities of the resistance in southern Lebanon, the Jordan Valley, and Tel Aviv as proof that our people will not give up defending Al-Aqsa. Resistance operations on the ground are escalating, mainly in the West Bank, as an expansion of the strategic base in Gaza. The split of the Zionist entity leads to the disintegration of its political institutions and the collapse. The message of our people in Jerusalem, the West Bank, and Gaza is that we continue on the path of resistance – regardless of the victims."
The Im Tirtzu Movement stated in response: "The security authorities must open an immediate investigation and act to file indictments against Israeli citizens involved in this conference of incitement. It is clear to everyone that we will all see the results of incitement in the coming days throughout Israel. It's not too late to act, Sabri and Hanna should be put in jail!"