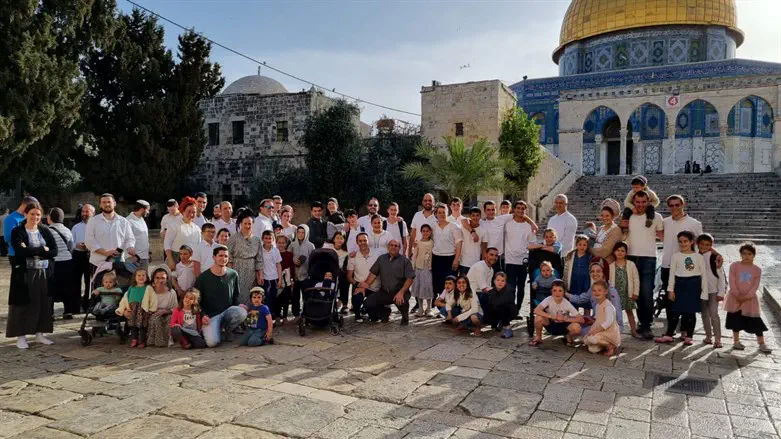 Residents of Har Bracha on Temple Mount
Temple Mount administration
Prime Minister Benjamin Netanyahu, Defense Minister Yoav Gallant and National Security Minister Itamar Ben Gvir on Tuesday completed a comprehensive assessment with heads of the security services on the security situation in Israel, including Judea and Samaria, Jerusalem and the Temple Mount.
At the conclusion of the discussion, the Prime Minister decided to ban Jewish visits to the Temple Mount starting on Wednesday and until the end of the month of Ramadan.
This is the same policy that existed in previous years and in previous governments, in which the Temple Mount was closed to Jews during the last ten days of the month of Ramadan.
Netanyahu rejected the recommendation of Ben Gvir, who believed that there was no reason not to allow Jews to ascend the Temple Mount on the seventh day of Passover. Netanyahu's office stated that Netanyahu and the ministers directed that all of the operational forces necessary be invested in order to protect worshippers going to the Western Wall and the routes leading to it.
The statement added that the decision was made "on the unanimous recommendation of the Defense Minister, the IDF Chief of Staff, the Director of the ISA and the Israel Police Inspector General."
"Prime Minister Netanyahu commended the Israel Police for the way it has operated on the Temple Mount and at the Western Wall during Passover, and the security forces for their many counterterrorist operations and actions to protect the citizens of Israel, which saved many lives," it said.
Defense Minister Gallant's office said that in the security discussion there was a consensus among all security officials not to allow Jewish visits to the Temple Mount on Wednesday. Defense Minister Gallant's position was supported by all the heads of the various security bodies - the Chief of Staff, the head of the Shin Bet and the police commissioner.
Ben Gvir blasted the decision and said, "The Prime Minister's decision to close the Temple Mount to Jews due to the wave of terrorism - is a serious mistake that will not bring quiet, but may only escalate the situation. The absence of Jews on the Temple Mount will automatically lead to the dilution of the police forces on the Mount, which will create fertile ground for huge demonstrations of incitement to murder Jews, and even a scenario of throwing rocks at Jewish worshipers at the Western Wall. When terrorism strikes us – we must strike back with tremendous force, not surrender to it and its whims."
(Israel National News' North American desk is keeping you updated until the start of the Seventh Day of Passover in New York. The time posted automatically on all Israel National News articles, however, is Israeli time.)