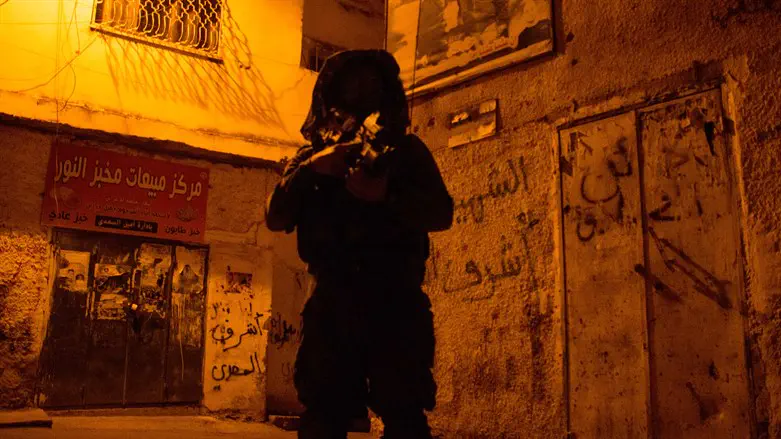 IDF soldier in Jenin
IDF Spokesperson/Flash 90
Israeli security forces operating in Samaria before dawn Tuesday morning captured five wanted terrorists who were planning a terror attack, set to be carried out in the near future.
The joint operation included soldiers from the IDF's elite Duvdevan unit, the Paratroopers Brigade, and the Israel Police's Yamas SWAT team, under the direction of the Shin Bet (Israel Security Agency).
The Israeli forces conducted the operation in the Palestinian Authority-controlled city of Jenin in northern Samaria, completing the operation in under an hour.
During the arrest operation, the terrorists opened fire on the Israeli forces and hurled explosive devices.
One terrorist was shot during the gun battle.
No Israeli security personnel were harmed during the operation.
In separate arrest operations across Judea and Samaria, additional wanted terrorists were arrested, including one terrorist in A-Ram, in the Ramallah region. During the arrest, rioters rolled burning tires and hurled stones at the Israeli soldiers, who responded with crowd dispersal techniques.
Another terrorist was arrested in Abu Najm south of Jerusalem.
In Al-Eizariya (Bethany) near Maale Adumim, terrorists threw firebombs at IDF soldiers, who responded with crowd dispersal techniques.
Israeli forces operating in as-Samu confiscated rifle magazines and military equipment.